Agent Usenet
Last Updated: Feb 15, 2021
Agent Usenet, formerly known as Agent Premium Newsgroups, provides high-speed global network that connects to over 800 broadband access providers around the world in addition to multiple Tier 1 bandwidth providers. Their features include the basics for Usenet access like SSL encryption, 30 connections and high retention and completion rates with access to over 100,000 newsgroups.
Pricing
This provider has 4 service plans that differ in download limits from 20 Gigabytes to unlimited downloads. Aside from all the previously mentioned basic inclusions, you also get fast header retrieval and access to their Usenet and newsreader support. Agent Usenet plans come with access to their own Agent 8.0 newsreader which allows you to select, download and view large binaries with just a single click.

| Download Limit | Price |
| --- | --- |
| 20GB | $2.95/mo |
| 45GB | $5.95/mo |
| 90GB | $9.95/mo |
| Unlimited | $14.75/mo |
Retention
Agent Usenet has 4563 days of binary retention and 6,439 days of text retention.
Free Trial
Agent Usenet has a 1-month free trial of their service. You can test out their performance by signing up for their 20GB tier and your first month will be free. You may cancel any time prior to your first renewal to avoid getting charged. If you do not cancel, your account will renew with billing at the beginning of the second month. If you wish to change your subscription type, just log in to the Agent Usenet account manager and change your account type from the renewal menu.
Special Offers
This provider does not have any special offerings, discounts or coupons. You may check back with us for future promotions.
Payment Options
Agent Usenet accepts Mastercard, Visa and American Express.
Configuration Information
Configure news server by entering the following data:
News server: news.forteinc.com or newsaccount.forteinc.com
Enter your username and password that was emailed to you upon signing up.
Standard Port: 119
SSL Port: 443 and 563
Speed Test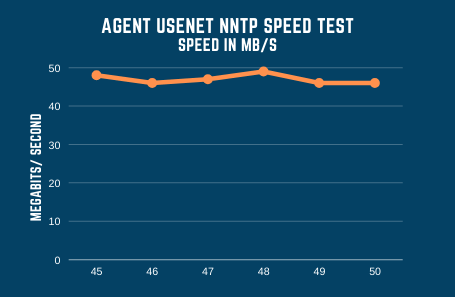 With multiple US and European data centers that connect to over 800 broadband access providers in the world in addition to multiple Tier 1 bandwidth providers, Agent Usenet provides a high-speed service to their customers. Your only limit would be how fast your own internet connection is.
Privacy
Your privacy and security are protected with Agent Usenet's 256-bit SSL encryption for all connections, whether uploading or downloading.
Personal information about a user will not be disclosed unless Agent Usenet is required to do so under applicable State and Federal laws, including, without limitation, the Digital Millennium Copyright Act (DMCA).
Customer Service
The Agent Usenet site has various assistance options on their support page for different inquiries. You may reach them through a contact form available on their website and tutorial video links, and an FAQ page may also be of assistance to other inquiries.
For order, you may reach them at apn-order-inquiry@forteinc.com or leave a voice message at +1.866.303.6264.
Address:
Forte Internet Software
2223 Bent Tree Place
Escondido, CA, USA 92026
Additional Products
As mentioned, Agency Usenet plans come with the Agent 8.0 newsreader. This newsreader can download, join, and repair your binaries without requiring any 3rd party software.
Summary
Coming from a very credible and established company, Agent Usenet has some good features that will appeal to a lot of basic Usenet users. And although their plans are limited, they still have great inclusions within these packages.
They have a good amount of connections, a great retention and completion rate and SSL encryption included free in their plans. All that said , we really would encourage our readers to check out our recommend Usenet providers listed for a better value for price.