Alibis.com
Last Updated: Feb 10, 2021
Alibis.com provides most of the essentials for Usenet access with their all-inclusive plans.
Alibis.com has been in the Usenet newsgroup access business for the past 15 years, providing unlimited speed and access, SSL encryption and 24/7 support to their members.
Price
Alibis.com is an all-inclusive Usenet service provider offering unlimited speed, access, security and 24/7 customer support to its clients. They have three pricing plans listed.

| Plan | Price | Connections | Billing |
| --- | --- | --- | --- |
| Recurring | $12.95 | 30 | Automatic billing |
| Semi-Annual | $69.95 | 30 | One-time billing |
| Annual | $139.95 | 30 | One-time billing |
Retention
They currently have 1600 days of binary retention.
Free Trial
Alibis.com does not offer any free trial, so you won't know what kind of service you will get unless you pay the price for the first month.
Special Offers
Alibis.com does not have any current special offers in terms of discounts or price reduction.
Payment Options
Alibis.com accepts major credit cards (Visa, Mastercard, JCB, Discover) for payment. They also have a pay by mail option via money order in US dollars, cash or personal check if from a bank within the United States. Payments can be sent to their contact address.
Configuration Information
Their server address is news.alibis.com. Subscribers can make use of standard ports 119–8080 or SSL Port 563.
You can connect to your account via their own web browser and entering your login information. Alibis.com also has a recommended list of newsreaders on their site like News Rover and Agent.
Speed Test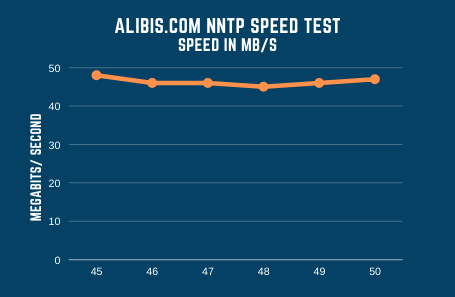 Alibis.com's speed fairs well. Like other Usenet providers, they offer unlimited speed and any slowdown may be because of your own internet connection. Their server location is only in the US.
Privacy
The providers plans include SSL encryption, which keeps Usenet user activity safe and secure.
The company also values the privacy of its customers by not monitoring or logging what customers download from newsgroups. Any personal or usage data is protected and not released to anyone unless required by a court of law.
Customer Service
Alibis.com has a 24/7 customer support team that you can reach via a contact form found on their website. You may also get in touch with them through:
Usenet News Server Co.
5150 Fair Oaks Blvd
Suite #101, PMB #362
Carmichael, CA 95608
Tel no. 1-916-217-2870
Additional Products
Alibis.com has no additional products except for a minor additional feature which is their own web browser. Their web browser is said to be the easiest way to connect your Alibis.com account for unlimited access.
Summary
Alibis.com has big claims of being the leading provider of Usenet newsgroup access for over 15 years. But with their dated pricing and features, the provider does not compete that well with actual leading Usenet services in the market.
On the first month of their recurring plan, they may match with some of the best Usenet providers out there but as soon as it goes back to their regular pricing level on the 2nd month, it is more than what other providers are offering with more impressive features. There are other providers with web access to Usenet and better features in terms of retention, connections and multiple servers.