Altopia
Last Updated: Feb 09, 2021
For the past 25 years, Altopia has been providing its consumers with reliable Usenet service that fits well with different customers. Their Usenet server carries over 122,000 newsgroups.
Pricing
Altopia offers monthly payment plans that differ in your allowed number of connections per IP address, but are standardized with unlimited transfer speed, usage and SSL encryption.
| Price | Connections |
| --- | --- |
| $6.00/mo | 2 |
| $9.00/mo | 5 |
| $12.00/mo | 10 |
| $15.00/mo | 15 |
| $20.00/mo | 20 |
Retention
Binary retention from Altopia is shorter than most Usenet providers. For binaries and text articles up to 15 parts, their retention is 140 days. Multi-part binaries larger than 15 parts are at 12.0 days.
Free Trial
Altopia encourages consumers to test their performance before signing up. They do not have a specific time frame or data limit as a free trial, but they allow you to check their service and see if it works well with your network connectivity by providing test accounts. To do this, set your newsreader to their server (news.altopia.com) with username "testnntp" and password "altnet1".
Special Offers
Altopia currently has no special deals or discounted pricing. Check back with us for possible future special offers.
Payment Options
This provider just accepts credit card payments at this time.
Configuration Information
You can access Altopia servers by configuring your newsreader with the following servers:
news.altopia.com
news.ipv6.altopia.com
Standard port 119 can be used and 563 for SSL encrypted port.
Speed Test
Altopia offers unlimited speed with their monthly plans. They perform well with speed, like any other Usenet provider. And like other providers, subscribers will only be limited by how fast their connection is with their internet service provider.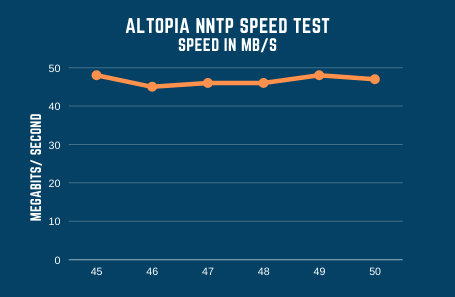 Privacy
SSL encryption is included in Altopia plans regardless of the package a user selects. This allows anonymous and secure access to Usenet.
Altopia collects and uses customer information mainly to improve their service, personalize user experience, improve their site, process payments and send periodic emails. They do not sell, trade or rent users personal identification to others. They adopt appropriate data collection, storage and processing practices and security measures to protect against unauthorized access, alteration, disclosure or destruction of personal information, username, password, transaction information and data stored on their site.
Customer Service
The Altopia website has a pretty comprehensive FAQ section on their website, but this section lacks technical inquiries. If you have questions answered on their FAQs or if you have other concerns, you may email them at support@altopia.com.
Address:
Altopia Corporation
1700 7th Ave Ste. 116 PMB #300
Seattle, WA 98101
206-367-4320
Additional Products
Altopia doesn't have any additional products.
Summary
Altopia is a well-respected Usenet provider in the industry, but although they have a long history, they do not offer low prices and high retention numbers. They have pleasant features with their unlimited downloads and speeds, a decent amount of connections and secure access via SSL encryption but may need additional improvements to set them apart or compete well with other Usenet providers.