BinTube
Last Updated: Feb 10, 2021
BinTube has a single all-in package that includes a built-in newsreader and accelerator.
BinTube is a Usenet provider that offers unlimited downloads, fast download speed, safety and security via SSL encryption and up to 30 connections along with their own advanced software for searching, downloading and streaming.
Pricing
BinTube only offers a single package which includes Usenet search with 4115 days of retention, their own newsreader, a free download accelerator and all other Usenet access essentials like unlimited downloads and speeds, SSL encryption and multiple connections.
Their package price depends on the billing period the subscriber avails. You get a 9% and 16 % discount for their semi-annual and annual subscription, respectively.
| Period | Price | Connections |
| --- | --- | --- |
| Monthly | $10.99 | 30 |
| Semi-Annual | $59.99 | 30 |
| Annual | $109.99 | 30 |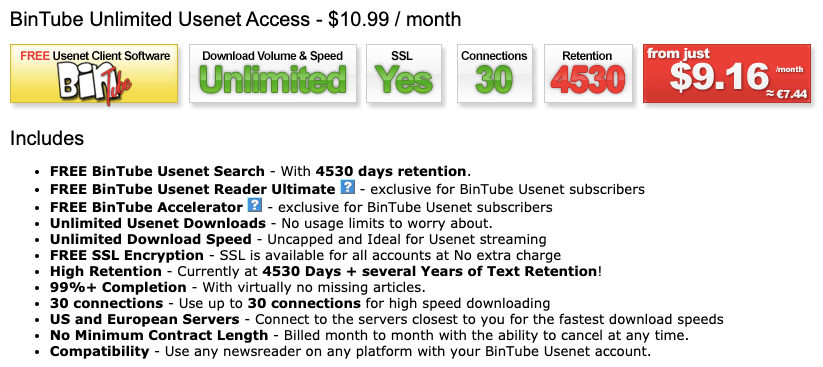 Retention
BinTube currently is at 4530 days of binary retention and several years of text retention. And with a 99% completion rate, there are virtually no missing articles.
Free Trial
BinTube does not have a free trial for their Usenet access service but they do have a free trial of the pro version of their newsreader.
Special Offers
As previously mentioned, their semi-annual and annual plan is offered with reduced pricing. Their semi-annual fee comes out as $9.99 per month, while their annual fee comes out as $9.16 per month.
Payment Options
BinTube accepts credit cards such as Visa, Mastercard, American Express and Discover as payment options. They also accept PayPal and Bitcoin.
Configuration Information
They have servers in the US and Europe and their addresses are:
news.bintube.com
eu.news.bintube.com
us.news.bintube.com
These servers offer up to 30 connections and SSL encryption capabilities. SSL enabled ports are 563 or 443. Standard ports are 119 and 23.
Speed Test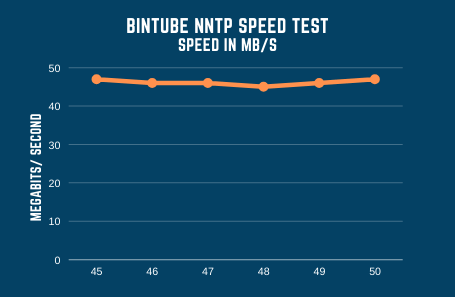 BinTube performs well in terms of speed. They do not cap your download speed, so you will only be limited by how fast your internet service provider is.
Privacy
SSL encryption is included in BinTube's plan, making it a secure Usenet provider for its subscribers.
BinTube does not share or sell any user information with third parties and they do not log Usenet related activities including search, downloads or posts. Some payment information may be shared with payment processors to process subscriber payments. Personal information of a user may only be shared if required by State or Federal laws.
Customer Service
A contact form is available on BinTube's website. Their support page also answers various questions that users may need help with. You may also submit a support request through their community page or submit personal feedback on their feedback forum.
Any other contact information like a specific email address, office details or telephone number is not supplied.
Additional Products
BinTube has their own Usenet reader that comes free with the Usenet access plan. You can easily download and stream all kinds of Usenet content including video, audio and images. Their newsreader also comes in a paid pro version that basically includes all features of their BinTube Ultimate newsreader except for progressive streaming, which limits the download speed to the bandwidth necessary for the stream. The pro version can be availed for $59.99 and requires a BinTube Usenet membership.
The BinTube plan also comes with a free BinTube Accelerator which works with any Usenet newsreader and provides up to 10x faster download speeds.
Summary
BinTube's major selling point is their free Usenet newsreader that comes with their plan. This is a significant addition to their already decent features of uncensored, unlimited, fast and secure Usenet access. Their BinTube Accelerator is also one impressive feature that may convince users to go for their service. While they may not be the best there is in terms of their price plans, BinTube still fairs pretty well in providing quality service to their subscribers.