Budget News
Last Updated: Feb 18, 2021
Cheap pricing but only offers block accounts.
BudgetNews provides Usenet access, specifically block accounts, at affordable prices. Their packages range from a minimal 15 GB to 10000GB. And since these are block accounts, they are non-expiring plans that also come with unlimited speed, up to 50 connections and a decent retention rate.
Aside from this, BudgetNews plans also includes header compression, free headers and posting, and allows users to share their accounts.
Pricing
BudgetNews has multiple packages that start from € 0,0010 per GB, with plans ranging from 15GB to 10000 GB.
15GB – Free
500GB - €7,50
1000GB - €12,50
2000GB - €18,50
5000GB - €40,00
10000GB - €75,00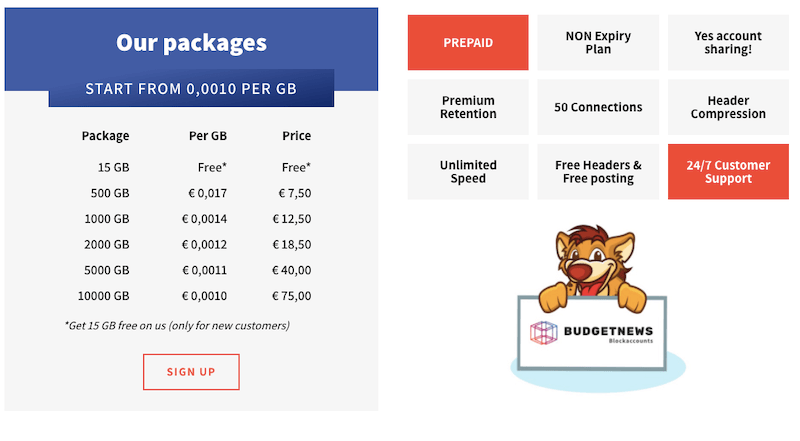 Retention
Users can download old posts from up to 2100 days back. That's more than 4 years of retention.
Free Trial
BudgetNews allows users to experience their service by providing 15GB for free when they sign up, with no obligations.
Special Offers
Currently, there are no special offers from BudgetNews. Make sure to check back with us for updates.
Payment Options
BudgetNews accepts PayPal, Discover, MasterCard, Visa, and American Express as payment options. You can also refer to the following details for payment:
IBAN: NL02RABO0114081913
BIC: RABONL2U
Bank: Rabobank Groningen
For the account of: RSP Sales LLC USA
Speed Test
Like most Usenet providers, BudgetNews performs well in terms of speed. This provider offers unlimited speed included in their block plans. However, please be reminded that while most providers give users uncapped speeds, how fast your Usenet activity will be is also dependent on your own internet connection.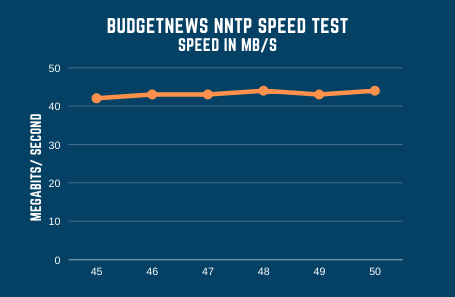 Privacy
BudgetNews is secured by Positive SSL.
According to their privacy policy, "BudgetNews does not and cannot review all materials posted to the System by users, and BudgetNews is not responsible for any such materials posted by users. However, BudgetNews reserves the right at all times to disclose any information as necessary to satisfy any law, regulation or government request, or to edit, refuse to post or to remove any information or materials, in whole or in part, that in BudgetNews' sole discretion is objectionable or in violation of this Terms of Use".
Customer Service
BudgetNews' customer service team is available 24/7. However, we have not tested how quick and efficient they respond. It is also important to note that the Support page on their website is currently not working so that may be an issue.
For their address, you may refer below:
RSP Sales LLC attn. Budgetnews
969 Street Road
Southampton, PA 18966
U.S.A.
Additional Products
BudgetNews does not offer any additional products.
Summary
While BudgetNews may have some pretty decent block accounts and their pricing may be affordable for some users, there are other Usenet providers that offer a bit more variety in terms of their packages. BudgetNews may benefit from also offering paid block accounts lower than 500GB for non-heavy Usenet users. That being said, we are not saying that BudgetNews has bad service. For the simplicity of their plans and the features included in them, BudgetNews can be a decent option for heavy Usenet users as far as block accounts are concerned.