Firstload
Last Updated: Feb 15, 2021
Firstload has a simple and easy-to-use Usenet software that even beginners can enjoy. They do, however, lack in giving enough information on their website for users to go for their service. Number of connections and server locations is not well-established.
Pricing
This provider has multiple plans that differ in data volume. Each plan also differs in contract period, payment method, and trial restrictions. Below is the detailed breakdown of each plan.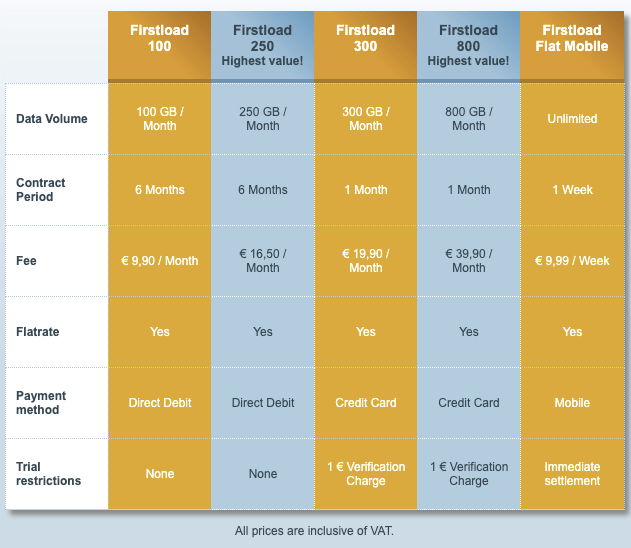 Firstload also offers a 30-day money-back guarantee for any customer who could be unsatisfied with their ordered product. Customers should contact their customer service within the first 30 days to get the full refund of the first month's membership charge.
Retention
Firstload has a retention period of 1200 days.
Free Trial
Firstload offers 14 days of free access to Usenet with a download volume of over 300 GB. The free trial comes with 15 GB of high-speed download volume and a free newsreader software.
Special Offers
While this provider does not offer any discounts or special coupons, they do have a 30-day money-back guarantee option for customers.
Payment Options
Firstload accepts credit card, direct debit and mobile payments. Please note that payments methods depend on the plan you select. Please check back on the pricing section of this review for the corresponding payment method for each plan.
Configuration Information
Customers can access Usenet through standard ports, 80 and 119 or alternative port 443. There is no server name mentioned on the Firstload website.
Speed Test
As with any Usenet provider, Firstload allows users to max out the speed of their broadband connection. There are no speed limitations with their plans.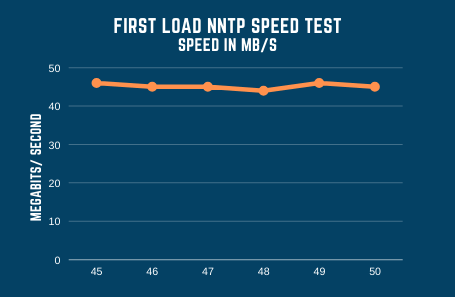 Privacy
All personal information is protected by a 128bit encryption and transferred only via a secure SSL connection. Regarding their privacy policy, Firstload does not pass members personal data on to third parties except for service partners who collect further data from the provider for registration handling purposes.
Customer Service
You may reach their support team through a contact form found on their website. Support is available 24 hours a day, 7 days a week. You may also reach them through the following:
Phone: 1-800-820-48-15
Outside US: +43 (0) 720 699 623
Fax: +43 (0) 720 699 623 91
Email: support@firstload.com
Make sure you have your account number on hand when you contact them.
Additional Products
Firstload does not have any additional products currently.
Summary
While it is good that Firstload has a 30-day money-back guarantee aside from their 14-day free trial period, the provider's service seems to need a bit of updating. There is a lack of more information on specific features like the number of connections they have as well as their server details. Retention period, although decent, can also be improved to compete at the same level of top Usenet providers in the market.
Upon checking their packages, customers might get a little confused by the differentiation of their plans. While all are flat rate, the date volume and contract period along with each of their corresponding fees is not that appealing. Another aspect of it that may turn subscribers off is the differentiation of payment methods for each plan.
We advise possible Firstload subscribers to really take advantage of their free trial first before committing to their service or check out our recommended top Usenet providers.