Frugal Usenet
Last Updated: Feb 09, 2021
Frugal Usenet provides basic Usenet access to its subscribers with their low-cost plans. You get access to both their US and European servers plus one back-up server to provide you the best speeds and completion. Their plans come with all the necessary inclusions for Usenet access from multiple connections, a good amount of retention and free SSL.
Pricing
The provider only has two Usenet account options that make it easy for you to decide if their plans would fit your needs. All you need to choose from is if you want a monthly account or yearly account. Both plans give you unlimited Usenet access. Upon signing up, you are given the option to avail of a subscription plan or a non-renewing plan. Their 1-year plan comes with an additional 300GB high retention block account with every payment.

| Price | Speed | Connections | Add-On |
| --- | --- | --- | --- |
| $4.99 | Unlimited | 100 | None |
| $50.00 | Unlimited | 100 | 300GB Block Account |
Retention
From a formerly low rate, Frugal Usenet has increased their retention rate to 3000 days.
Free Trial
Frugal Usenet does not offer any free trial.
Special Offers
Frugal Usenet has a coupon box available on their sign-up page. Check back with us some other time for possible coupons that the provider may offer.
Subscribers can also get 2 extra free days of Usenet access if you pay by cash or money order.
Payment Options
Frugal Usenet accepts credit cards, PayPal, cash or money order. They also accept crypto currency payment for non-renewing plans.
Configuration Information
You can make use of their two main servers:
news.frugalusenet.com
eu.frugalusenet.com
They also have a bonus server that can be added as a back-up: bonus.frugalusenet.com.
If your newsreader and internet service provider support IPv6, you can also access these servers:
news-v6.frugalusenet.com
eunews-v6.frugalusenet.com
Standard ports: 20, 23, 53, 119, 443, 2000, 8080, 9000, 9001, 9002
Bonus server port: 80 or 119
SSL ports: 563 or 5563
Bonus SSL ports: 443 or 563
While Frugal Usenet does not have any download limit, it is important to note that their bonus server has a download limit of 1TB per calendar month.
Speed Test
Frugal Usenet has servers based in the US and Europe that can provide you with the best speeds and completion. They do not limit how fast you can download. You will only be limited by how fast your broadband connection is.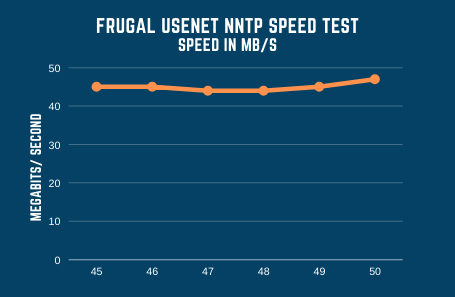 Privacy
Frugal Usenet includes free SSL encryption in their Usenet accounts for secure Usenet access.
They do not provide any information on their complete privacy policy on their website, but they state it on their FAQ page that they do not record or monitor the things that subscribers do on Usenet.
Customer Service
With their low prices, Frugal Usenet has skimped down on support. They admit that support is limited, and that question will be answered as soon as they can answer them, but you may reach them at support@frugalusenet.com.
Additional Products
Frugal Usenet does not have any additional products, but they offer a free 300GB high retention block account with their 1-year plan. This free offering comes from their sister site, Blocknews.Net.
Summary
With their low costs and uncomplicated pricing plans, Frugal Usenet is a good option for Usenet consumers. While they may not be the best in the industry, they do offer all the basics needed for a good Usenet experience: access to multiple servers, security via SSL, a large amount of connections and an improved retention rate. It would be great, though, if they had a free trial service so that consumers can test out their service and see if quality is not sacrificed by how cheaply you pay for the service. But that aside, Frugal Usenet has some attractive features and worth considering.