Hitnews
Last Updated: Feb 15, 2021
Hitnews is a US-based company that provides unlimited downloads, unlimited Usenet search, 2100 days of retention and SSL-secured connections. Depending on the plain you purchase, you can get up to 30 connections.
Pricing
Hitnews has non-recurring, flat-rate plans that are differentiated by their download speed. It can be availed monthly, quarterly, semi-annually or annually. If your plans are expiring, you can renew your account by logging in to their website. If you wish not to extend, you do not have to do anything.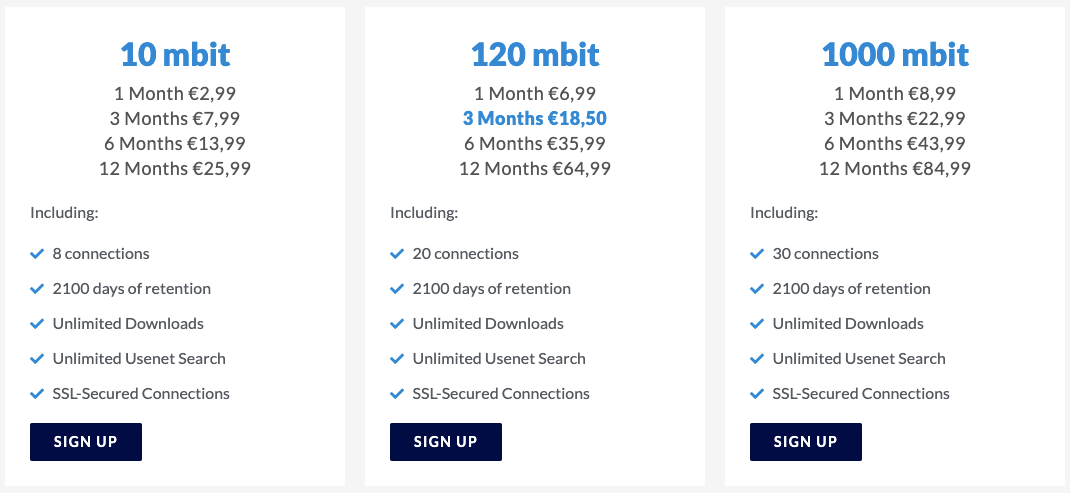 | Plan/ Speed | Connections | Monthly | Quarterly | Semi-Annual | Annual |
| --- | --- | --- | --- | --- | --- |
| 10 Mbit | 8 | €2,99 | €7,99 | €13,99 | €25,99 |
| 120 Mbit | 20 | €6,99 | €18,50 | €35,99 | €64,99 |
| 1000 Mbit | 30 | €8,99 | €22,99 | €43,99 | €84,99 |
The provider also offers short-term plans for a period of 48 hours, 1 week or 2 weeks. The short-term plans include 1000 Mbps of speed and 30 connections.
48 hours - €1,50
1 week - €3,00
2 weeks - €5,00
Hitnews also has a Nighttime plan that gives Usenet access from Monday to Friday 12AM to 4PM CET and Saturday and Sunday from 12AM to 10AM CET. You get up to 1000 Mbit of speed at €4,50 per month or €49,99 per year. Downloading anytime outside the given hours, you can download at 1 Mbit.
Retention
With their high retention of 2100 days, you can download posts from over 4 years ago.
Free Trial
You can try Hitnews service for free for three days without any obligation. You get unrestricted and unlimited access when you sign up for the free trial.
Special Offers
Hitnews currently has a one time only coupon code available. Type in 20OFF3M on the coupon box when you sign up for any of their 3-month subscription and get a 20% discount. They also have coupons available for new clients who extend their trial version with a monthly subscription. Coupon code is WELCOME and gives 50% off.
For updates on other special offers, you can check back with us or visit the coupon page on the Hitnews website.
Payment Options
Hitnews accepts payments via credit cards, iDeal, Bitcoin and PayPal.
Configuration Information
You can use the following server addresses with Hitnews:
Standard settings: news.hitnews.com
SSL Server settings: ssl.hitnews.com
Trial settings: free.hitnews.com
Standard port is 119 and SSL port is 563 or 995.
Speed Test
It is important to remember to not go faster than the maximum speed your internet connection can handle. So, when selecting a Hitnews plan, choose one that would suit best with your internet service provider. Hitnews allows speed up to 1000 Mbit, which is fast enough to download large files.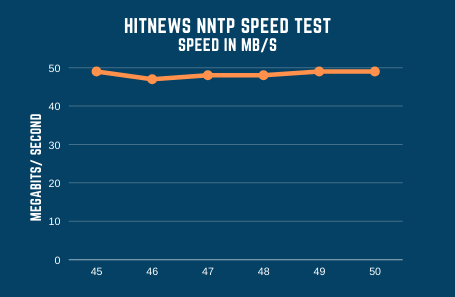 To maximize the speed set-up your reader to use all the available connections to your type of account.
Privacy
Hitnews only uses the information you provide to maintain and improve their service. They may share personal information with third-party companies who provide service with Hitnews or if required to fulfill the law, protect against fraud or security risk, or to protect the rights, property and safety of the company, its third parties and the public.
Customer Service
They have an available support page that contains basic FAQs that users might need answering. You may reach Hitnews through their contact form or through support@support.hitnews.com. Their dedicated support team is available every day.
Address:
RSP Sales, LLC attn. Hitnews
969 Street Road
Southampton PA 18966
USA
Additional Products
Hitnews does not have any additional products available.
Summary
Hitnews has a good variety of plans. You have different options from their standard plans that differ in its speed and connections. You choose the plan which would best work for you and fit well with your own broadband connection. Their off-peak or nighttime plan is also a great option for users in the EU. Depending on your location, you would have to adjust with their given time period. While Hitnews may not be the greatest of all Usenet providers, they do offer coupons, a free trial option, a good amount of retention and they have frequent updates on their website.