iLoad Usenet
Last Updated: Feb 16, 2021
iLoad Usenet offers 5698 days of retention, making your uploaded file available for the next 15 years. In addition, iLoad has a total of 5,500GB of content available every day. Secured and encrypted SSL browsing with the highest completion of up to 99% and its largest integrated search engine are just some of the key features of iLoad Usenet.
In addition, the service provider offers 7,657 binary newsgroups and a total of 35,630 terabytes of data.
Pricing
Per the website, the pricing for each plan is considered and examined carefully. You can choose a plan good for longer use or a shorter plan with heavy downloading capacity.
For a customized and more option of choices, they provide a list of plans that you can choose from.
For volume plan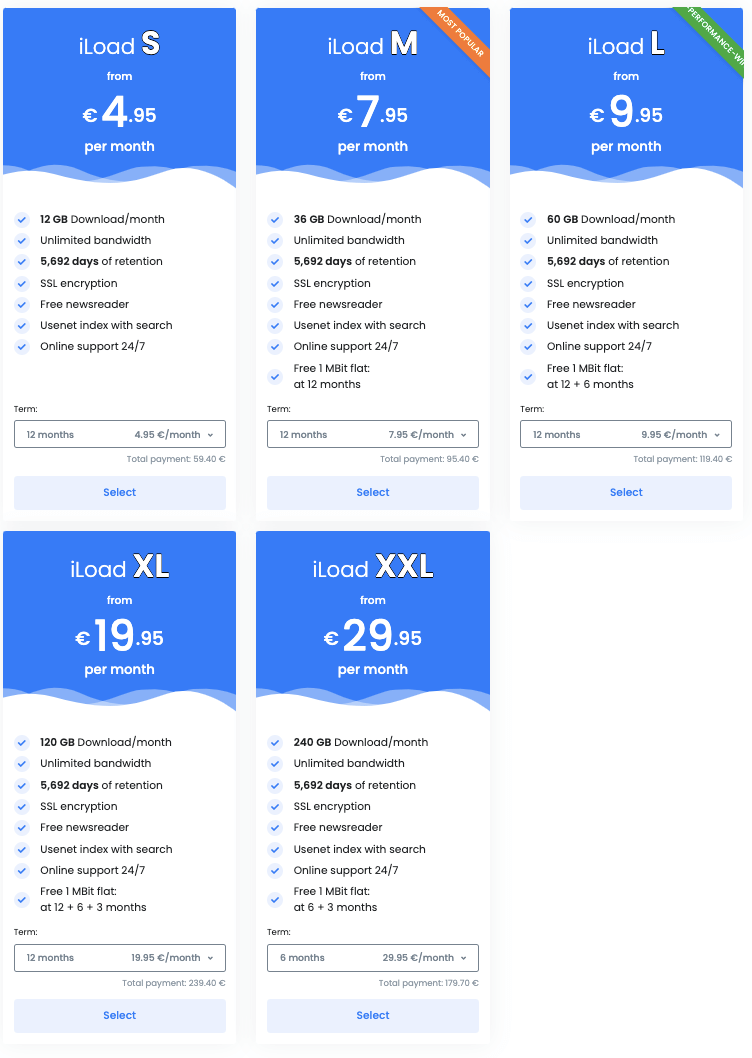 Plan
Price
Download per month
Discounted price
Freebie for lock terms
iLoad S
€6.95
12GB
€4.95/mo for lock 12 mos.
N/A
iLoad M
€9.95
36GB
€7.95/mo for lock 12 mos.
Free 1 MBit flat
at 12 months
iLoad L
€11.95
60GB
€9.95/mo for lock 12 mos.
Free 1 MBit flat
at 12 + 6 months
iLoad XL
€21.95
120GB
€19.95/mo for lock 12 mos.
Free 1 MBit flat
at 12 + 6 + 3 months
iLoad XXL
€31.95
240GB
€29.95/mo for lock 6 mos.
Free 1 MBit flat
at 6 + 3 months
All plans include unlimited bandwidth, 5698 days retention, SSL encryption, free newsreader, Usenet index search, and access to 24/7 online support.
For flatrate plan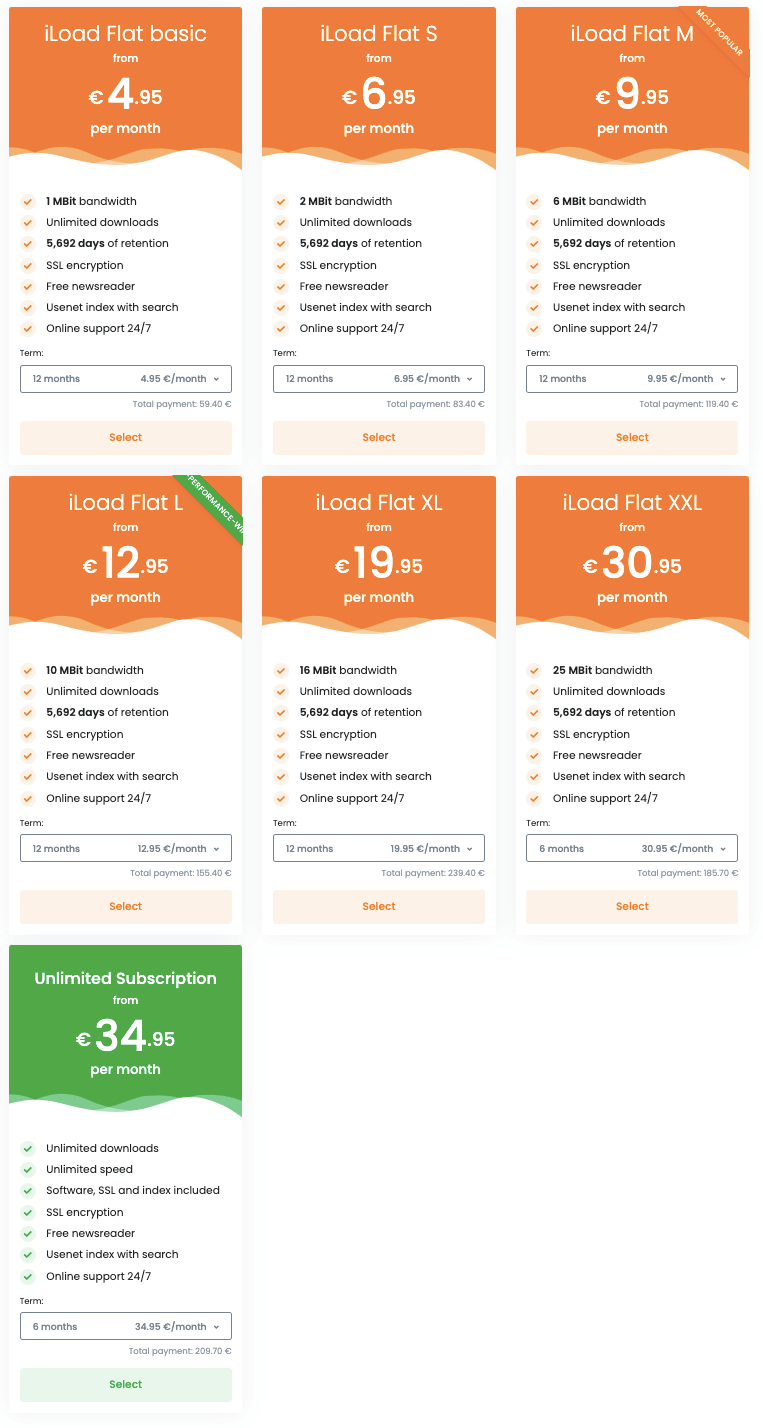 | Plan | Price | Bandwidth per month | Discounted price per month |
| --- | --- | --- | --- |
| iLoad flat basic | €7.95 | 1 Mbit | €4.95 for 12 mos. |
| iLoad flat S | €9.95 | 2 Mbit | €6.95 for 12 mos. |
| iLoad flat M | €12.95 | 6 Mbit | €9.95 for 12 mos. |
| iLoad flat L | €15.95 | 10 Mbit | €12.95 for 12 mos. |
| iLoad flat XL | €22.95 | 16 Mbit | €19.95 for 12 mos. |
| iLoad flat XXL | €32.95 | 25 Mbit | €30.95 for 6 mos. |
| Unlimited subscription | €39.95 | Unlimited | €34.95 for 6 mos. |
All plans include unlimited downloads and all the features mentioned in the volume plan except the unlimited bandwidth.
For prepaid plan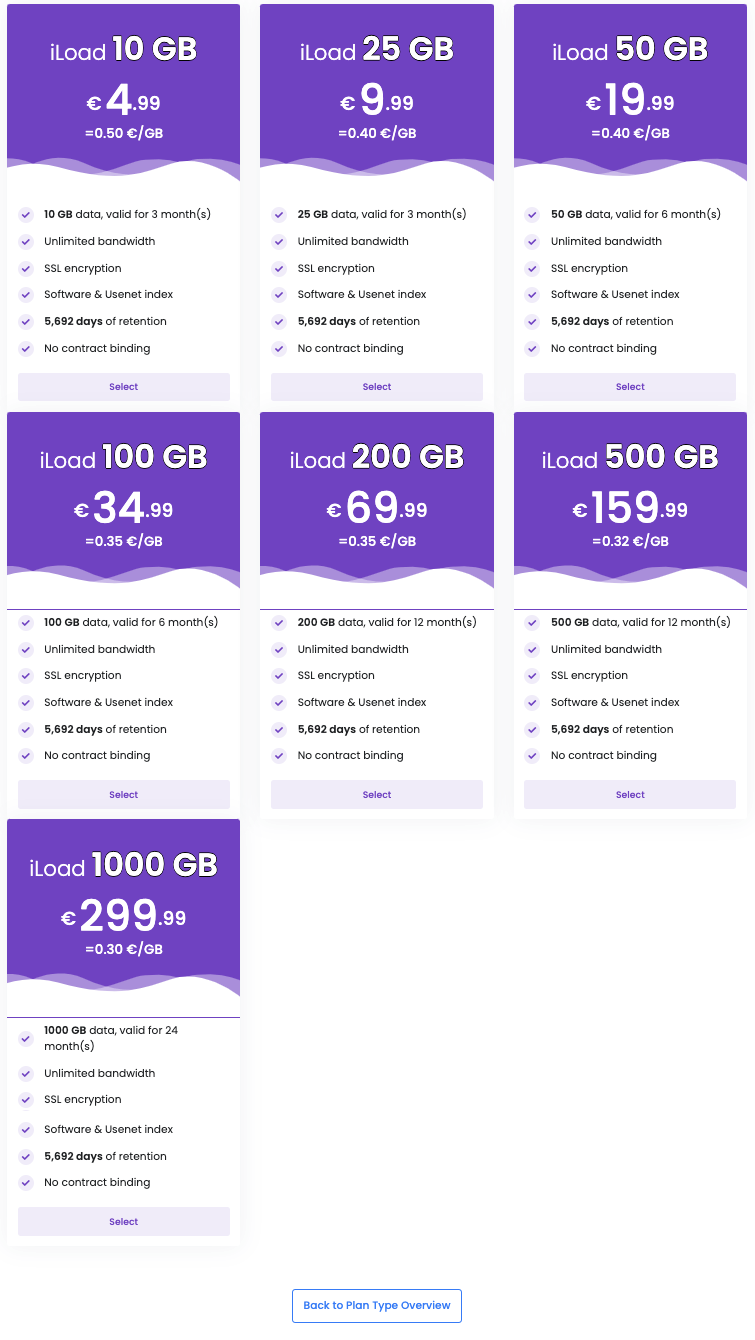 | iLoad 10GB | iLoad 25GB | iLoad 50GB | iLoad 100GB | iLoad 200GB | iLoad 500GB | iLoad 1000GB |
| --- | --- | --- | --- | --- | --- | --- |
| €4.99 valid for 3 mos. | €9.99 valid or 3 mos. | €19.99 valid for 6 mos. | €34.99 valid for 6 mos. | €69.99 valid for 12 mos. | €159.99 valid for 12 mos. | €299.99 valid for 24 mos. |
Please note all the packages can be upgraded to any higher plan anytime. You can also buy additional traffic, and if you have any hesitation to which plan to choose, they welcome queries through their support form.
Retention
iLoad Usenet provides one of the longest retentions for Usenet users. A total of 5698 as of December 1, 2020, is one of the new perks for its clients.
Free Trial
Enjoy your 14-day free trial with 36GB high speed at iLoad Usenet.
Special Offers
None at the moment.
Payment Options
You can pay thru Paypal, Klarna banking, Credit Cards, and Single Euro Payments Area.
Configuration Information
Configure through iload-usenet.com with the following ports:
Standard- 119, 23, 443, 8080
SSL- 9000, and SSL 563, 80, and 81.
Speed Test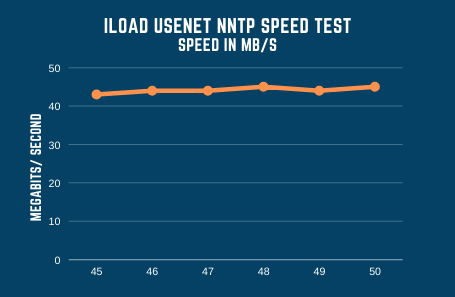 While the website did not mention the full speed capacity of iLoad Usenet, its servers to both Europe and America help to deliver high-speed service to its users. Ranges of speed are also available for you to choose in their customized plans.
Privacy
All the transactions and plans offered by iLoad Usenet are secured with SSL technology. They claim that their own newsreader also helps to easy access and secure its use to Usenet.
iLoad Usenet also complies with the precautions imposed by the California Online Privacy Protection Act and promises not to give your personal information to third parties without your consent.
Customer Service
Connect with their team through their support forms available on their website or through personal with the following address:
Paloma Networks, Inc.
P. O. Box 134
Reef Village
Ambergis Caye
Belize, Central America
And for Europe:
Makani GmbH
Kasernenstrasse 39a
9100 Herisau
Schweiz
The average waiting time for support forms is just 8 hrs from the time you send your query.
Additional Products
iLoad Usenet has its own newsreader.
Summary
With its 12 years of experience in service, the iLoad Usenet lets you choose the most flexible plan you need base on your interest and budget. They offer one of the longest retentions and the biggest integrated search engine. All plans come with a free newsreader, SSL encryption, and 24/7 support for anyone who has concerns. While you can get big discounts if you purchase the 6-12 month lock service, new customers or anyone curious about how it works would still prefer to try the per month service in which their price is not that friendly.