NewsGrabber
Last Updated: Feb 10, 2021
NewsGrabber provides access to over 62,000 groups, including almost all binaries. You can have simultaneous access with 20 to 45 connections and have fast and secure Usenet use for free.
Pricing
NewsGrabber has multiple plan options that you can choose from. Select from different speed limits or number of connections. All plans include SSL encryption, access to available groups and 24-hour access. Plans are spread out to different periods from 1 week to one whole year. The longer the duration, the higher the discount rate for the plan availed.

| Speed | Connections | 1 week | 1 month | 3 months | 6 months | 1 year |
| --- | --- | --- | --- | --- | --- | --- |
| 10 Mbit | 20 | €1.75 | €5.00 | €14.25 | €27.00 | €48.00 |
| 30 Mbit | 25 | €2.15 | €6.50 | €18.55 | €35.10 | €62.40 |
| 60 Mbit | 30 | €2.50 | €7.00 | €19.95 | €37.80 | €67.20 |
| 120 Mbit | 35 | €2.75 | €9.00 | €25.65 | €48.60 | €86.40 |
| 200 Mbit | 40 | €3.50 | €12.00 | €34.20 | €64.80 | €115.20 |
| Unlimited (800 Mbit) | 45 | €4.25 | €15.00 | €42.75 | €81.00 | €144.00 |
Retention
The provider currently has a retention rate of 1100 days.
Free Trial
NewsGrabber does not offer any free trials or money-back guarantee.
Special Offers
There aren't any special offers, coupons or discounts from NewsGrabber currently. For updates, you may check back soon for possible offers.
Payment Options
NewsGrabber accepts major credit cards, iDeal, Bancontact, Mister Cash, Giropay, Carte Bleue, Maestro, Sofort and Paypal.
Configuration Information
You can connect with NewsGrabber through their server, news.newsgrabber.nl. Standard port is 119 while secure port is 563.
Speed Test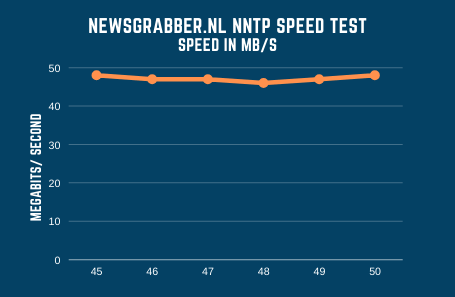 NewsGrabber delivers the fast speed they promise. But while most Usenet providers feature excellent speed, you are also limited by how fast your own internet connection is. So, make sure to choose a plan that goes well with your internet service provider.
Privacy
They include fast and anonymous SSL port in all of their packages, giving users secure and safe access to Usenet.
NewsGrabber collects personal and payment information from its users for the purpose of processing and managing your subscription. NewsGrabber does not provide any personal data or customer consumption data to any court of law unless required.
Technical and organizational measures are in place to protect data against unauthorized access, transfer, destruction or other unauthorized processing.
Customer Service
For assistance, you may reach NewsGrabber through the support page on their website where you can browse through frequently asked questions or submit a ticket for your general, technical or payment concerns. They also have a live chat support available on their website. They can be reached 24 hours a day, 7 days a week, and they try to respond to all support requests within 6 hours. You may also reach them through support@newsgrabber.nl.
Additional Products
Newsgrabber has a Nighttime Unlimited plan, which is an ideal package for users with fast internet connection that downloads at night. Priced at €3.25 per month, this plan includes all features of the regular unlimited package but with access only from 10pm to 8am.
Summary
Newsgrabber provides decent features with the plans they offer. They have fast speed and flexible pricing options, which is always a good service indicator for any Usenet provider. While they have a good range of plans, pricing could be better if you compare them to other service providers. Their website is also a little dated and could be improved. There is a need for translation to English language at every page transition and every click and most FAQs are in Dutch. But putting that aside, Newsgrabber does have an excellent customer support that is available 24/7. No matter where you are or what your time zone is, you are assured that someone will be able to assist you with your concerns.