Newsgroup Ninja
Last Updated: Feb 15, 2021
Newsgroup Ninja features an unlimited speed and unmetered access service along with a high retention rate of 4562 days, 24/7 support and 50 SSL connections.
Pricing
Newsgroup Ninja has partnered with one of the most reliable and experienced Usenet providers to resell service in a simple package. You get good quality service with low-cost margins that will not make you worry about overages, long commitments or paying for unused extras.
This provider only has two subscription options—monthly and yearly. Both plans include unlimited downloads and speed, unlimited bandwidth, unmetered access, 50 connections, 4,406 days of binary retention and SSL encryption:
Monthly - $7.99/mo
Yearly - $69.99/yr ($5.83/mo)
Retention
Users can access old and new posts with Newsgroup Ninja's 4562 days of retention.
Free Trial
While this Usenet provider doesn't have a free trial, they do offer a 7-day money-back guarantee for those who sign up with their service. If you are unsatisfied with their service, you can contact them through their online support form or send them a message through the dashboard during the first 7 days.
Special Offers
While there are no current special offers or coupons given, Newsgroup Ninja recommends possible subscribers to avail of their yearly plan which would give customers a 27% less rate compared to the regular monthly plan.
Payment Options
They currently accept Visa and Mastercard, both debit and credit versions as well as prepaid cards.
Configuration Information
Newsgroup Ninja servers are distributed in the US, Netherlands and Germany. The server address provided on the user dashboard automatically connects you to the closest location. To manually specify which servers to use, please see below:
Geo (closest server)–news.newsgroup.ninja
United States–news-us.newsgroup.ninja
Netherlands–news-nl.newsgroup.ninja
Germany–news-de.newsgroup.ninja
You can use standard port 119 or connect through their 50 secured connections through port 563.
Speed Test
Like other Usenet providers in the industry, Newsgroup Ninja performs well with speed given they purchase premium bandwidth for Tier 1 speeds. With this, you will only be limited by how fast your connection is with your internet service provider.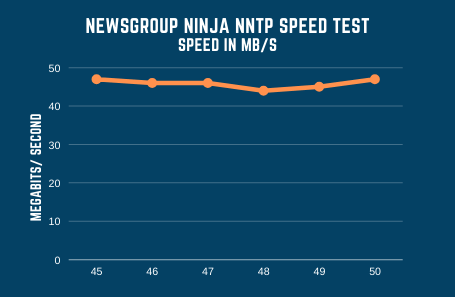 Privacy
Newsgroup Ninja accounts come with 50 SSL connections to prevent snooping and ISP throttling. The company believes in security via encryption and privacy via policy. While some logs are kept for billing, accounting, abuse detection purposes and analytics, they do not log what you access via their servers.
They only collect user information for account processing, customer support, marketing and to ensure security. They do not release any subscriber information to law enforcement with a valid court order or similar order from local authorities.
Customer Service
Newsgroup Ninja has an online ticketing system on their website's support center. Subscribers can also send them a message through their service dashboard or via email: support@newsgroup.ninja.
Additional Products
They do not offer any additional products.
Summary
If you are an experienced Usenet user, Newsgroup Ninja would be a solid provider. As mentioned on their website, they are specifically catered for the technically savvy – limiting their support to billing inquiries and giving the power to configure their Usenet access to the users. With this in mind, this provider may not be the best option for first time Usenet customers. But aside from that, Newsgroup Ninja has some pretty decent features that come along with their plans. They have covered all the basic requirements needed from a good Usenet provider from unlimited downloads and speed to secure access via SSL encryption. All in all, Newsgroup Ninja is a reliable choice but can also do better by offering additional features, multiple subscription options and more payment methods.