NewsXS
Last Updated: Feb 15, 2021
NewsXS is a Usenet provider that offers both unlimited Usenet accounts and block accounts.
When subscribing to NewsXS, you can get unlimited use, 1900 days of retention, up to 50 connections and secure access via SSL encryption. You can also use your account on multiple IP addresses depending on the plan you select.
Pricing
NewsXS has multiple unlimited Usenet accounts that vary in speed and number of connections. You get the same amount of retention with 99.5% completion, free and unlimited headers and free SSL. You can avail of their plans on a per month, per quarter, per half year or per year basis. Below is the per month cost of their yearly subscription.

| Plan | Price | Connections | Speed |
| --- | --- | --- | --- |
| Mini XS | €4.50 | 10 | 10 Mbit |
| Lite XS | €5.50 | 20 | 24 Mbit |
| Xtreme XS | €7.50 | 40 | 100 Mbit |
| Fiber XS | €9.50 | 50 | Unlimited |
| Night-XS | €2.95 | 50 | Unlimited |
If you are not a heavy Usenet user, you can take advantage of their block account options. All block accounts come with 25 connections, sharing capabilities to 25 IP addresses, free and unlimited headers, unlimited speed and free SSL. NewsXS block account is valid for 1 year or when you've reached your block limit.

| Block Size | Price |
| --- | --- |
| 5GB | €1.70 |
| 10GB | €3.00 |
| 50GB | €11.00 |
| 100GB | €17.00 |
| 500GB | €55.00 |
Retention
NewsXS currently has a retention of 1900 days, which means an article remains available in the cache or servers for about 59 months.
Free Trial
You can request for a 14-day free trial from the NewsXS website. Simply select the account you want to try and click on request. Their trial period is open to their 24/7 accounts and allows you to use up to 150GB of data within the given time period.
Special Offers
NewsXS has gift certificates that consumers can purchase through a special request page. You can avail of different account types and give them as a gift to whoever you want. Gift vouchers are valid for 1 year after issue and can be personalized with a message.
Payment Options
NewsXS accepts iDeal, PayPal, Mastercard and Visa payments.
Configuration Information
Use the server address: reader2.newsxs.nl in combination with your username and password to access Usenet. The same address applies for posting.
Standard Ports: 119, 23, 80, 81, 443, 8080, 2323 and 8181
SSL Ports: 563, 564, 600, 663 and 664
Speed Test
Your download speed would really depend on the plan you select. Like most Usenet providers, NewsXS can max out the speed of broadband connections. Make sure you select an account that matches well with the speed of your internet service provider.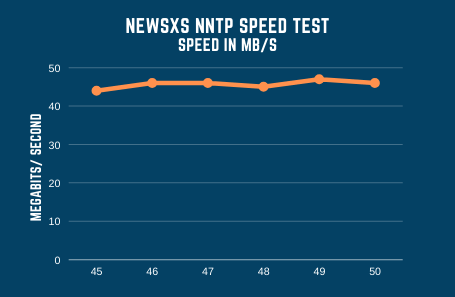 Privacy
All NewsXS plans come with SSL, which provides a secure connection between the provider and your computer. All the data that passes through your ISP is also encrypted.
NewsXS respects the privacy of all users of its website and services and ensures that all personal information is treated confidentially.
Customer Service
NewsXS has a comprehensive support page where you can browse through a list of frequently asked questions. If you wish to contact their support team directly, you may email them at support@newsxs.nl. They also have support via WhatsApp which is available only on weekdays from 09:00 to 12:00 but they respond to email and tickets via contact form quicker.
Address:
NewsXS
PO Box 269
2700 AG Zoetermeer
Additional Products
Part of their service is a free account creator as well as a free domain name when you subscribe to a one-year plan.
Summary
NewsXS has some decent features that are very appealing to different types of Usenet subscribers. With both unlimited and block accounts, they are able to cater to those who need unlimited access and non-heavy consumers. They also have one night-time plan for those who burn the midnight oil when accessing Usenet.