Prepaid Usenet
Last Updated: Feb 15, 2021
Prepaid Usenet lets you connect through Usenet by prepaid cards. They are known for their free cancellation- no commitment policy for its users.
Prepaid Usenet offers a unique style of providing its client access to Usenet by connecting through prepaid cards, and not through a subscription plan.
If you are not satisfied with their service, they guarantee money back. They promise not to have any surprises and hidden fees like other providers, and there are ways on how you can run the free test without giving your phone number.
In addition, Prepaid Usenet has the following features:
Free own newsreader
1800 days retention of data
Guarantee no volume decline
Free test account
Full speed and privacy
30 connections available
Pricing
Prepaid Usenet has three (3) packages for any kind of budget and need.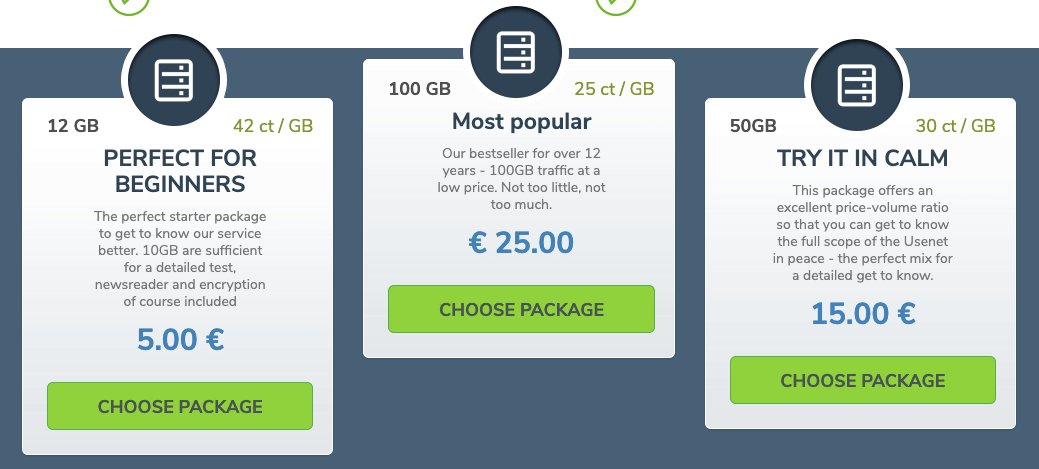 Beginner Plan
€5.00
12GB download volume included
42ct/ GB basic price
SSL encryption
Maximum internet speed
Free newsreader
Peaceful Plan
€15.00
50GB download volume included
30ct/ GB basic price
SSL encryption
Maximum internet speed
Free newsreader
Most Popular
€25.00
100GB download volume included
25ct/ GB basic price
SSL encryption
Maximum internet speed
Free newsreader
Retention
Prepaid Usenet offers 1800 of retention for your data. In other words, you can browse all the content published five years ago.
Free Trial
The provider offers a free SMS test account with a 10GB download. No need to terminate or revoke after consuming the free account, as this does not automatically subscribe to their basic plan.
Special Offers
None at the moment.
Payment Options
They allow multiple payment methods like Paypal, bank transfers, Paysafecard for anonymous payment method, or Sofortüberweisung.de.
Configuration Information
Connect your account through prepaid-usenet.de with the following ports:
Standard ports: 119
SSL secure ports: 563
Aside from its own newsreader, alt.binz, sabnzbd, grabit, newsleecher and mozilla thunderbird are some recommended newsreaders for Prepaid Usenet.
Speed Test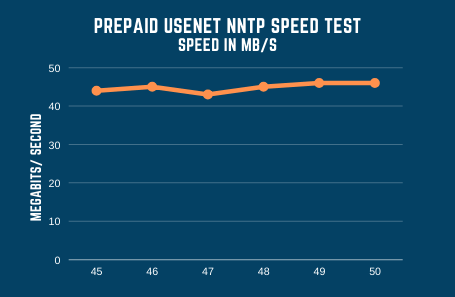 The website does not mention the full speed limit of Prepaid Usenet aside from 'Maximum internet speed'. This means that, through their servers, users may be able to max out the connection of their own internet service provider.
In addition, the Prepaid Usenet is connected in two (2) data centers- in the Netherlands and the United States of America, making the 100Mbit/s easy to attain.
Privacy
Upon registering with Prepaid Usenet, please note that they will save your username, password, email address, phone number, registration date, and volume used at the end, but not your IP address. To help you browse privately, they have activated the IP anonymization resulting from Google shortening your IP address. It will then be deleted after 30 days of use.
Any SSL or TSL encrypted transaction between you and the provider will not be accessed by any third party.
Customer Service
There are two options for Prepaid Usenet to assist you with your concerns. First, they provided a comprehensive list of Frequently Asked Questions (FAQs), making the most common query accessible without contacting the team, and if the list does not provide your concern, you can write to them through the support forms available in their website.
For the right of withdrawal within 14 days period, please refer to the following contact:
PPU Prepaid-Usenet UG (limited liability) Nattheimer Str. 13 89520 Heidenheim an der Brenz Telephone: 07321/4889807 E-Mail: info@prepaid-usenet.de
Additional Products
Free Momentum Plus software, and Alt.Binz newsreader for easier use of Usenet.
Summary
Prepaid Usenet believes in transparency. They believe that the customers' satisfaction is not achieved through long-term contracts but by their customer service and efficient service. We can all agree that this is a great way to serve the client, but upon checking the terms of use and right of cancellation, you will see that they have a 14-day period of cancellation from the day you concluded the contract. Although it is true that it is not a subscription Usenet provider, it is also not a free cancellation anytime service.