SunnyUsenet
Last Updated: Feb 15, 2021
SunnyUsenet offers high-quality Usenet access with affordable rates.
SunnyUsenet provides 24/7 Usenet access with their wide range of packages that include no download limits, SSL connections and various speed options. They allow account sharing and provide excellent customer service.
Pricing
They have different price plans that vary in speed and number of connections. All plans include SSL encryption and 4100 days of retention. Their packages can be availed monthly or yearly. Yearly plans allow you to save up to 20%. You can also get additional 20 free connections if you enable auto-renewal with their subscription plans.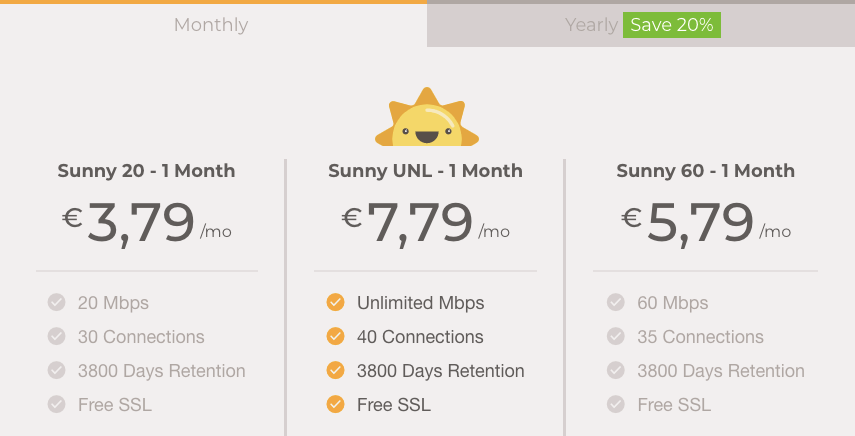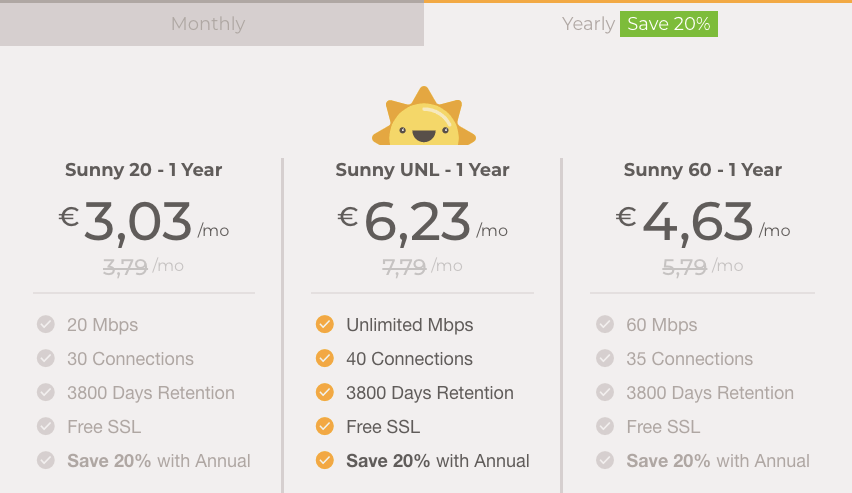 | Plan | Speed | Connections | Monthly | Yearly |
| --- | --- | --- | --- | --- |
| Sunny 20 | 20 Mbps | 30 | €3,79 | €3,03/mo |
| Sunny 60 | 60 Mbps | 35 | €5,79 | €4,63/mo |
| Sunny UNL | Unlimited | 40 | €7,79 | €6,23/mo |
Retention
SunnyUsenet currently has a retention of 4100 days with 99% completion rate.
Free Trial
All SunnyUsenet subscription plans come with a 7-day free trial. If you are not satisfied with their services during the trial period, cancel before the end of it to avoid getting billed.
Special Offers
SunnyUsenet has no existing special offers or coupons available. Check back with us for possible future promotions.
Payment Options
Credit cards, iDeal, Sofort, Paysafecard, PayPal and Bitcoin are accepted as payment options.
Configuration Information
Once you have a SunnyUsenet account, configure your newsreader with this server: news.sunnyusenet.eu. All SunnyUsenet accounts come with ports 119 and 80. SSL secured ports are 563 and 443.
Speed Test
With the plans SunnyUsenet offers, users can have 20 Mbps to an unlimited amount of speed. While unlimited speed can make a tremendous impact on how fast you download, you should also consider that you are limited by how fast your connection is with your internet service provider. Make sure you choose a plan that will not go faster than what your broadband connection can provide.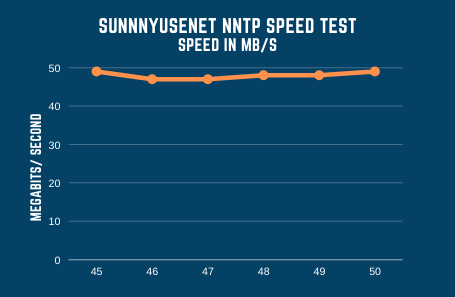 Privacy
SSL Connection is available on all SunnyUsenet plans which give subscribers secure Usenet access.
SunnyUsenet collects and uses account, location, log and usage information to mainly process transactions and provide and improve services. They have a team dedicated to keeping information secure and testing for vulnerabilities.
Customer Service
SunnyUsenet has a FAQ section on their website for basic questions about Usenet and their service. If you have other concerns or need technical support, you can reach SunnyUsenet through their contact form available on their website. You can also reach them via email: support@sunnyusenet.com.
Address:
Lakahraun EHF
Sudurlandsbraut 18
Reykjavik 108 Iceland
Tel: +1-602-715-1650
Additional Products
SunnyUsenet does not have any additional products in their line-up.
Summary
SunnyUsenet is a good option, especially for users who are looking for limited speed plans. Speed limited plans can be good for subscribers whose internet connections are also limited. When choosing which plan you want, make sure you select one that fits well with the speed provided by your internet service.
They have the basics covered from a decent number of connections and secure Usenet access via SSL encryption. SunnyUsenet proves to be a reliable Usenet provider that offers competitive pricing matched with their pleasant features.