Usenet.net
Last Updated: Feb 10, 2021
Usenet.net has provided value and performance in the Usenet community since 2004 with their premium newsgroup access, a good retention rate, option for private and secure usage and a reliable technical support team.
Pricing
Usenet.net offers 2 plans, both of which include unlimited access and speed, 3+ years of binary retention and 24-hour customer support. The plans vary in connections and SSL encryption.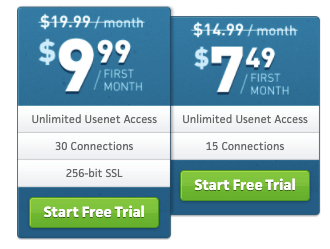 | Price | Connections | Encryption |
| --- | --- | --- |
| $7.49 | 15 | none |
| $9.99 | 30 | 256-bit SSL |
Retention
Usenet.net has 3+ years of binary retention and 17+ years of text retention while maintaining over 99% completion.
Free Trial
A 5-day free trial is available for new customers. You will have access to five days of uncensored access with 10GB of bandwidth. You will not be charged during the free trial period, however upon expiration of the trial, your credit card will be charged unless cancelled prior to expiry date.
Special Offers
Reduced pricing is available on the first month of subscription on any of their two plans. For their SSL-encrypted plan, you only pay $9.99 for the first month while their unencrypted plan can be availed for $7.49 on the first month of subscription.
Payment Options
Available payment options are Visa and Mastercard only.
Configuration Information
Usenet.net server is news.usenet.net with its default port at 119. The provider also accepts NNTP-only connections to port 23 and 80. Secure ports are 443 and 563.
If a client is configured for another service prior to Usenet.net, it is necessary to download a new list of newsgroups. Also, any groups with previously downloaded headers will need to be refreshed. This can be done by unsubscribing and resubscribing to the newsgroup.
Speed Test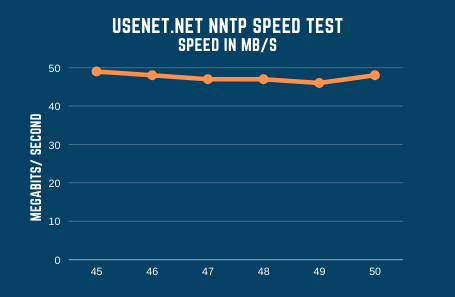 Usenet.net tests well for speed. They provide high-speed premium newsgroup access using a redundant network of servers. Download speeds will rely primarily on the speed of your internet service provider. Usenet.net service is capable of employing the full bandwidth of most broadband connections.
Privacy
The provider has a plan that includes a 256-bit SSL enabled encryption which allows safe and secure Usenet access.
The company does not release any customer information. Any subscriber information will only be released if presented with a court order. And while Usenet.net monitors their servers to the extent necessary to ensure high standards of maintenance, they do not monitor or record any subscriber activity online. Usenet.net does not monitor which newsgroups you post to or download from or what you put in articles that you post.
Customer Service
Usenet.net has a 24/7 technical support whether you have a billing question or a complex technical issue. They may be reached through forms available on their website. Other than that, Usenet.net does not provide any other contact information.
Additional Products
There are no existing additional products offered by Usenet.net.
Summary
All in all, Usenet.net performs as well as other providers. They have a decent amount of connections that is enough for most users, speed that is only limited by your ISP, a reasonable retention rate that maintains over 99% completion and a 24/7 technical support. Where Usenet.net differs from their competition is their pricing. While other providers offer SSL encryption across all their plans, Usenet.net charges extra for a safe and secure Usenet access. Subscribers do have the option to take the cheaper route and avail of their non-encrypted package, but, of course, this is not recommended. In the end, it's either you risk your connection security by going for a non-encrypted service or pay more for an SSL-enabled one.