Usenet.Farm
Last Updated: Feb 09, 2021
Usenet.Farm is a reliable Usenet provider that focuses on what the consumer needs. Their plans have no frills and no complicated descriptions, making them easier to be understood by the most basic of users. They pride themselves in providing their customers with a simple-use platform consisting of a usage dashboard and an easy-access account.
Pricing
Usenet.Farm has two monthly access plans that differ in speed and download limit. They also have one block access account for users who might need this type of usage. All plans include SSL encryption.

| Plan | Price | Speed | Data Limit | Connections | Account Sharing |
| --- | --- | --- | --- | --- | --- |
| Stingy | €4.95/mo | 12 MB/s | 4TB | 40 | not allowed |
| To the Max | €7.95/mo | Unlimited | 6TB | 40 | Up to 2 users |
| Block | €15.00 | Unlimited | 500GB | 50 | Unlimited |
Their block access account only expires after the data limit has been reached. And in accordance with their fair-use policy, their monthly plans download speeds will be lowered to 3072 KB/s when data limits have been reached.
Retention
Usenet.Farm has a retention of over 3000 days.
Free Trial
You get 10GB Usenet access for free when you sign-up for their trial period. All you need to do is enter your email address and activate your trial. No credit card or other payment information is required.
Special Offers
Usenet.Farm currently has summer sale ongoing. They offer discounts for their plans depending on the daily temperature (in Celsius) of Amsterdam. As of writing, they are at 30%.
Payment Options
Usenet.Farm accepts credit cards, PayPal, iDeal, Paysafecard and Bitcoin.
Configuration Information
On your selected newsreader, you can change the hostname using the following servers:
news.usenet.farm
news4.usenet.farm
news.usenetfarm.eu
Standard port is 119 & Secure port is 443 and 563.
Speed Test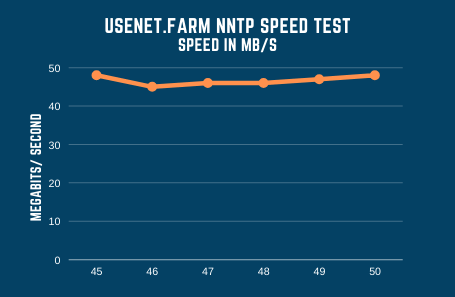 Usenet.Farm is fast in testing, as most Usenet providers these days. You should be able to max out your entire bandwidth allotment from your internet service provider. We suggest that you check how fast your own internet connection is before you decide which plan you want.
Privacy
Usenet.Farm does not monitor or log the articles you are reading or posting. They do access your IP address, number of articles downloaded and posted, and amount of bytes downloaded or sent. This is shared with you through your personal usage dashboard.
Customer Service
Subscribers can reach Usenet.Farm through support@usenet.farm.
Additional Products
Usenet.Farm provides simple plans and has a very straightforward service. They do not have any additional products included in their features.
Summary
Usenet.Farm offers decent Usenet service that is laid out with their simple monthly plans and single block account access. While they may not be at par with the best Usenet providers in the business, they do provide reliable access to their subscribers. They test well in speed, have a good amount of connections, give users secure access via SSL encryption and have multiple payment options including paysafecard and bitcoin which gives customers anonymity.
If you want to know if Usenet.Farm is right for you, give their service a try with their free 10GB Usenet access that has no payment information required or complex registration.