UsenetLink
Last Updated: Feb 09, 2021
UsenetLink provides uncensored Usenet access with their straightforward and simple plans. Their rates are higher than other providers, so consumers may have to carefully check details about their service to know if UsenetLink would be a good fit.
Pricing
UsenetLink has simple pricing plans that cover unlimited access, 30 connections, SSL encryption and constantly increasing retention, which is currently at 4000 days. Plans can be purchased monthly, quarterly, semi-annually or annually. All accounts can be used for up to 120 mbit/s.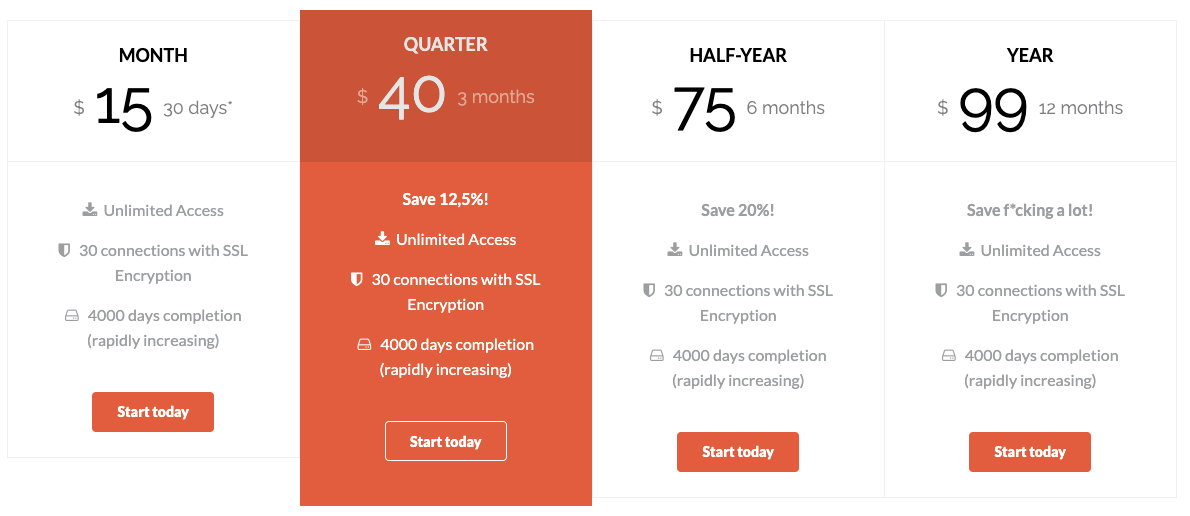 | Plan | Price | Access | Connections |
| --- | --- | --- | --- |
| Month | $15 | Unlimited | 30 |
| Quarter | $40 | Unlimited | 30 |
| Half Year | $75 | Unlimited | 30 |
| Year | $140 | Unlimited | 30 |
It is important to note that the $99 fee for their per year plan is only applicable for the 1st year of service. Succeeding years will be at $140.
Retention
UsenetLink offers 4000 days of retention.
Free Trial
If you want to try their service out, UsenetLink offers anyone to test them out for an hour by signing up with your email—no payment required.
Special Offers
When you select a bigger period of UsenetLink plans, you get a certain amount of savings. 12.5% savings for quarterly and 20% for half a year. You can also avail of their per year plan for $99 dollars for the first year and they will then charge you $140 for the succeeding years.
Payment Options
UsenetLink accepts credit cards, Sofort banking, Bitcoin, Litecoin and Ogecoin.
Configuration Information
Upon signing up, UsenetLink will give you their list of servers that you can configure to your selected newsreader. Standard port is 119 and SSL port is 563.
Speed Test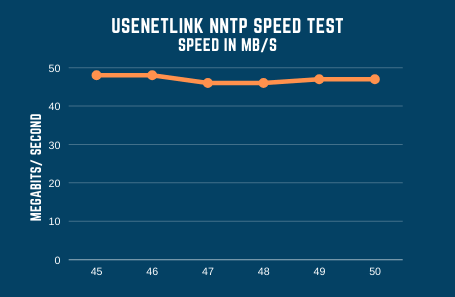 UsenetLink performs well on speed like other Usenet providers. Their accounts can be used for up to 120 mbit/s. You should be able to max out your broadband connection but, ultimately, your speed would depend on how fast your connection is with your internet service provider.
Privacy
UsenetLink does not keep any logs of what articles you access on Usenet. Your given information is used to complete your registration. At registration you will also subscribe to UsenetLink newsletter. They do not share this information with outside parties except to the extent necessary to complete your order or for sending their newsletter.
Customer Service
There is no information on customer support or even FAQs on the UsenetLink website. But if you are a UsenetLink subscriber, you can click on their support page and log in with your username and password.
Additional Products
UsenetLink has no additional products on their services roster.
Summary
UsenetLink has some decent features that come with plans. One of their best-selling points would have to be that their packages are pretty simple to understand and that may appeal to some consumers. Their pricing is higher than a lot of providers, though. If you wish to try their service out, they allow 1 hour of free testing by just signing up with your email.