XLned
Last Updated: Feb 09, 2021
XLned Review. Find the best Usenet Provider with UsenetReviews.org
XLned has been in the Usenet industry since 2007 and was formed because of the unpopularity of some Dutch Usenet providers at that time. Back then, pricing wasn't that inviting. That is why XLned developed pricing options that would best suit the different needs of different users. Their subscription plans cover safe and secure Usenet access, 24/7 service, and unlimited Usenet usage. Subscribers have the option to choose the speed and number of connections that would best fit their needs. If you are not worried about long retention or you think you have no need for a lot of connections, then XLned might be for you.
Pricing
XLned's plans vary in download speeds and differ in the number of connections it allows you to make to the server. The price per month depends on the payment period you choose. Prices below are that of their 12-month subscription plan, but they also have a 1 and 6-month option.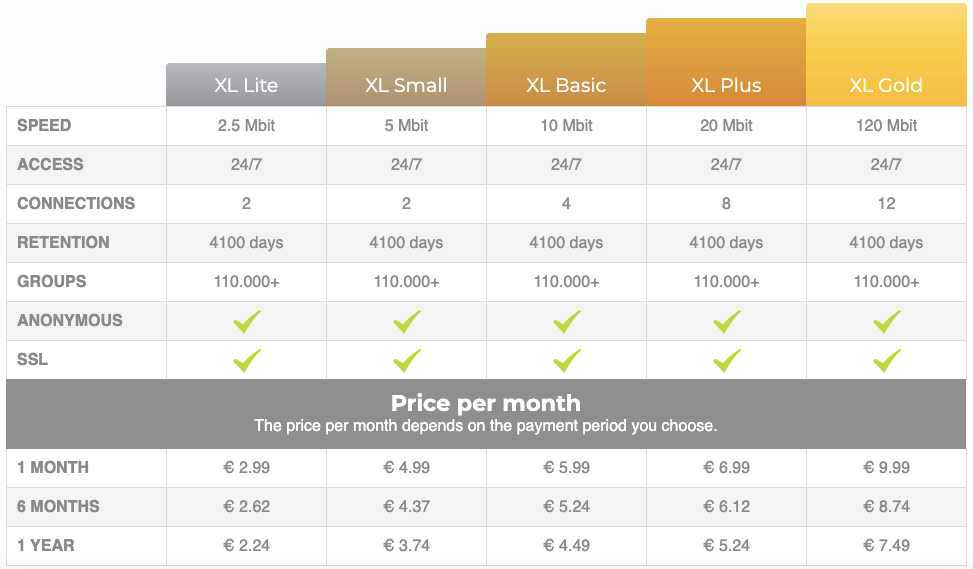 | Name | Price | Speed | Connections |
| --- | --- | --- | --- |
| XL Lite | €2.24 | 2.5 Mbit | 2 |
| XL Small | €3.74 | 5 Mbit | 2 |
| XL Basic | €4.49 | 10 Mbit | 4 |
| XL Plus | €5.24 | 20 Mbit | 8 |
| XL Gold | €7.49 | 120 Mbit | 12 |
XLned does not have block plans available.
Retention
The provider has 4100 days of retention, which is a little lower compared to other Usenet providers.
Free Trial
There is no listed free trial option or any money-back guarantee from XLned.
Special Offers
There are no current special offers from XLned.
Payment Options
XLned currently acknowledges the following payment methods:
Mastercard
Visa
Sofort
iDeal
Bitcoin
Paysafe Card
Configuration Information
XLned servers are located in Europe, which might make them a good provider for those who don't want to use US-based servers. They give their full list of servers to users once subscribed. The provider makes use of standard 119 and 23 ports and has SSL-enabled ports 443 or 563.
Speed Test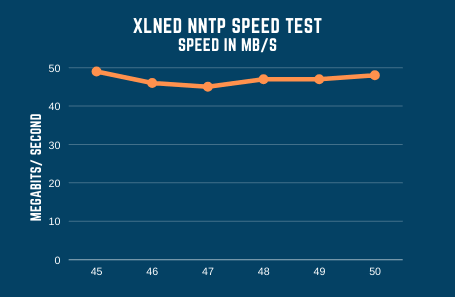 XLned offers 5 speed options ranging from 2.5 Mbit to 120 Mbit depending on the plan you avail. And although they do not offer as much connections as some other providers, it is important to remember that more connections do not necessarily make your connection faster. XLned speed options are set based on whatever their subscriber needs, making it enough for the user.
Privacy
XLned has SSL encryption built into their servers preventing anyone from seeing what the subscriber is downloading. The SSL also ensures that your traffic isn't throttled by your internet service provider.
Collection and use of personal data are only for legitimate business needs, except if requested in accordance to legal matters. Location, log and usage information is also collected to provide services in a reliable and secure manner.
Customer Service
You may reach XLned through their website helpdesk, which has a link to their FAQs and a link to personal assistance. Clicking on personal assistance automatically allows you to email them. You may also opt to email them directly via support@xlned.com or for any privacy concerns, via privacy@xlned.com.
Address:
Lakahraun EHF
Sudurlandsbraut 18
Reykjavik 108 Iceland
Tel: +1-602-715-1650
Additional Products
XLned allows uploading of messages to Usenet over your connection. The provider has a separate upload server, which allows subscribers to read messages while posting messages for others.
Summary
With their competitive rate, XLned has some very nice features in their service. They have the basic safe and secure platform with SSL encryption, a variety of speed options to choose, 24/7 access to Usenet and a healthy number of connections. So, if you are not worried about having extremely long retention rates and if you don't mind limiting your total number of connections, XLned would be perfect for you.