XS Usenet
Last Updated: Feb 10, 2021
XS Usenet has been around in the industry since 2009, providing world-class Usenet and VPN services. The provider offers free Usenet access with certain limitations for people who want to experiment and get familiar with the system. XS Usenet also has paid packages for experienced users featuring unlimited speed, SSL support, or VPN encryption. Whatever you think suits your needs, XS Usenet just might have what you are looking for.
Pricing
XS Usenet has 2 existing plans–a Premium Usenet package and a VPN Security package. They also have a Usenet + VPN plan in the works. Each of these package rates may vary based on the duration of your subscription. Their monthly rates for their plans are: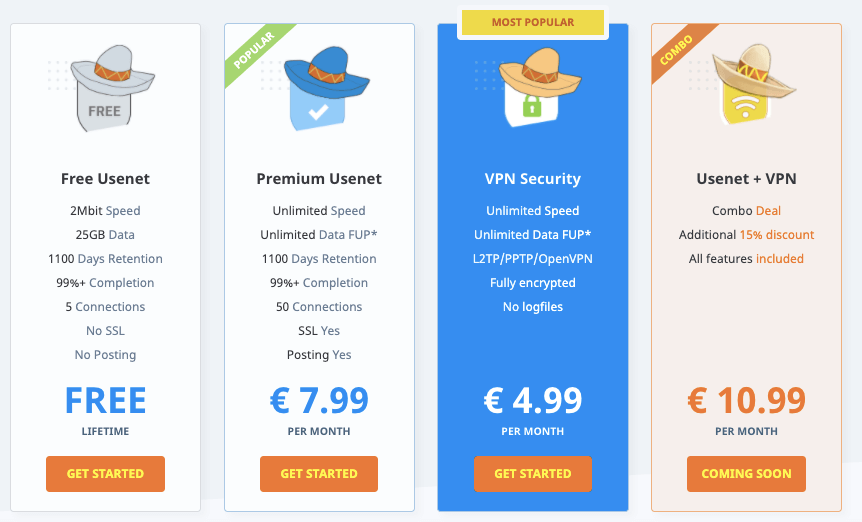 | Name | Price | Speed | Data |
| --- | --- | --- | --- |
| Premium Usenet | $7.99 | Unlimited | Unlimited |
| VPN Security | $4.99 | Unlimited | Unlimited |
| Usenet + VPN | $10.99 | Unlimited | Unlimited |
Their Premium Usenet plan includes 50 connections and SSL encryption while their VPN Security plan has L2TP/PPTP/OpenVPN and is fully encrypted.
Retention
The provider has 1100 days of retention, which is lower compared to other Usenet providers.
Free Trial
XS Usenet offers free access to Usenet for those who do not want to subscribe to their plans, but this lifetime entry has limitations. Inclusions in their "freemium" are 2Mbit speed, 25GB of data, 5 connections, no posting capability and no SSL encryption.
Special Offers
The provider offers discounts on their plans depending on your chosen duration of their subscription: 10% for quarterly, 15% for semi-annual, and 20% for annual subscription.
For their upcoming Usenet + VPN plan, they will also offer an additional 15% discount.
Payment Options
XS Usenet accepts the following payment options:
Credit Card
Paypal/ iDeal
Bancontact
SOFORT Banking
Bank Transfer
Bitcoin/ Bitcoin Cash/ Ethereum/ XRP/ USD Tokens
Paysafe Card
KBC/ CBC Payment Button
Belfius Direct Net
Configuration Information
XS Usenet has servers in Europe and server is reader.xsusenet.com or free.xsusenet.com. Their premium Usenet plan includes SSL encryption at ports 443 on 50 connections. The provider does not have SSL encryption for the free Usenet access offering. Non-SSL ports are 23, 80, 119 & 443.
Speed Test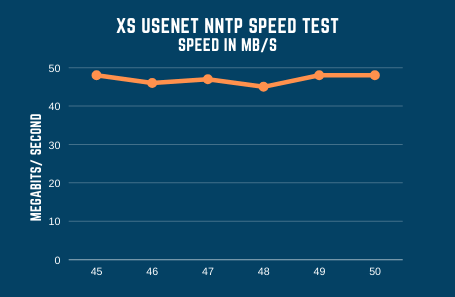 XS Usenet caps off Usenet speed at 40Mbit per month if above 5TB of data is used. This is more than enough for most users.
Privacy
Their Premium Usenet plan includes SSL encryption, or you may also opt to go for their VPN Security plan, which is also fully encrypted.
The only mandatory data collected by XS Usenet is your email address. Payment information is stored directly with their merchant processor and the Usenet provider do not keep any records of it.
Customer Service
XS Usenet has a multilingual staff available 24/7 for any user questions. You may reach their support team through a contact form available on their website or email them straight at support@xsusenet.com. Their social media accounts (Facebook and Twitter) are also active.
XS Usenet B.V.
Jan Pietersz. Coenstraat 7
2595 WP The Hague
Tel No: +31 (085) 5301 5703
Additional Products
There are no mentioned additional products from XS Usenet except for their VPN Security option.
Summary
XS Usenet is a good option for both beginner and expert Usenet users. Beginners may opt to explore the providers free service to gauge how easy Usenet can be for them. With their Premium Usenet plan, subscribers get a good deal for what they are paying for–unlimited speed and data, 99% completion rate, 50 connections and secure access to Usenet. And although their prices may be higher than other providers, they do offer discounts depending on the duration of subscription.