Z51
Last Updated: Feb 09, 2021
Z51 is a Usenet provider that offers unlimited traffic with guaranteed speed.
Z51 provides a variety of plans that vary in speed and available connections. All plans include unlimited traffic, anonymous Usenet access via 256-bit SSL, 24/7 email support, 1250 days of retention and up to 50 connections. Z51 plans also come with their newsreader, PureNZB, which allows users to easily browse and download on newsgroups without any configuration to do.
With Z51, you get uncensored access to up to 65,000 popular newsgroups and use of their fast servers. Subscribers also get unlimited uploads.
Pricing
With Z51, you decide when you want to pay. Their plans do not automatically renew, and they vary in speed and connections all for 30 days of service.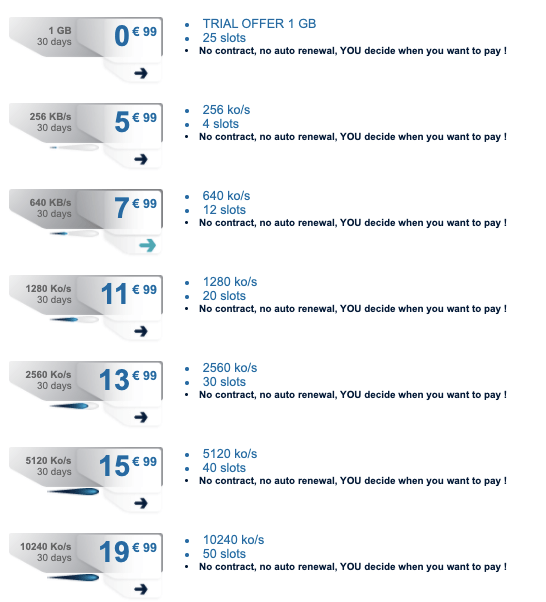 | Speed | Connections | Price |
| --- | --- | --- |
| 256 KB/s | 4 | €5,99 |
| 640 KB/s | 12 | €7,99 |
| 1280 KB/s | 20 | €11,99 |
| 2560 KB/s | 30 | €13,99 |
| 5120 KB/s | 40 | €15,99 |
| 10240 KB/s | 50 | €19,99 |
Retention
Z51 offers 1250 days of retention.
Free Trial
They have a 30-day trial offer that allows 1GB Usenet access with 25 connections. There is no contract and no auto-renewal, and you decide when you want to avail of their priced plans.
Special Offers
Z51 does not have any special offers at present.
Payment Options
Z51 only accepts PayPal and Credit card via PayPal as payment options.
Configuration Information
When you subscribe to a Z51 plan, a PureNZB newsreader comes pre-configured so you should have no problems with configuring the said newsreader. If you will use a different newsreader, you can set it up by using their server: news.z51.biz. Standard port 119 can be used or SSL ports 600 and 563.
Speed Test
Since Z51 plans are differentiated by speed and number of connections, your speed would depend on the package you choose. How fast you download and upload also would depend on your internet service provider. Make sure you select a plan that would not exceed the speed of your broadband connection.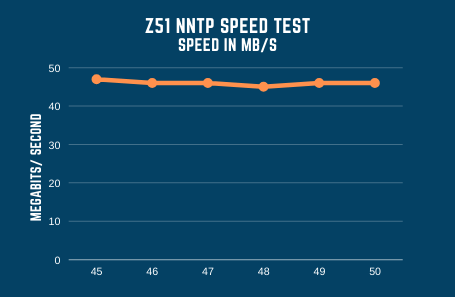 Privacy
All of their plans come with a 256-bit SSL encryption which allows safe downloads and uploads.
Z51 holds customer information with the strictest confidence and commits not to sell or rent this information except if required to share as ordered by a court of law.
While Z51 watches the servers to ensure standards of maintenance and quality are followed, they do not make follow-ups or loggings to identify the contents exchanged by the users on the Usenet network.
Customer Service
A contact form is available on the Z51 website for any technical help or usage information a customer needs. They have an average response time of less than 2 hours. They also have a comprehensive FAQ section for any easy-to-answer inquiries.
Address:
Z51 L.L.C.
2915 Ogletown Road
1354, Newark, DE
19713, USA
Tel. No: +1 (302) 294 0 248
Additional Products
They include the PureNZB Usenet client in their service, free of charge. This advanced newsreader comes pre-configured with the Z51 service, so you will be able to use it right away with no confusing set-up instructions.
Summary
Z51 is a solid Usenet provider that offers competitive packages in terms of their pricing and multiple speed and connection options. They are a good option for users who might not want to use the Usenet service that much and would go for a non-renewing plan. Their multiple speed and connection options would benefit users that have different levels of broadband connection. And if you are not that convinced yet with how well their service is, you can try them out for a massive 30 days. That should be enough time to know if Z51 is a right fit for you.