Last Updated: Feb 23, 2021
Kwooty is a free Usenet binary downloader that can be installed on Linux devices. It has a good graphical user interface and has several features that make it a good newsreader option for Linux users.
Kwooty was primarily developed for KDE 4, which is a software compilation based on the K Desktop Environment. KDE acts as a graphical user interface for Linux. Hence, you can install Kwooty on any Linux-run machines. It can also work on other portable operating system interfaces (POSIX) like BSD and UNIX-like OSes.
Kwooty is completely free to use and can be downloaded from different websites like the KDE store. However, for your protection we suggest that you download from a reliable site or scan your downloaded software with your computer's antivirus when downloading from a relatively unknown site.
Features
Kwooty has some pretty good features built into its program. It functions well as a newsreader/ NZB downloader. It has an automatic file verification feature, automatic archive extraction, and has built-in YEnc and UUEncode file decoders.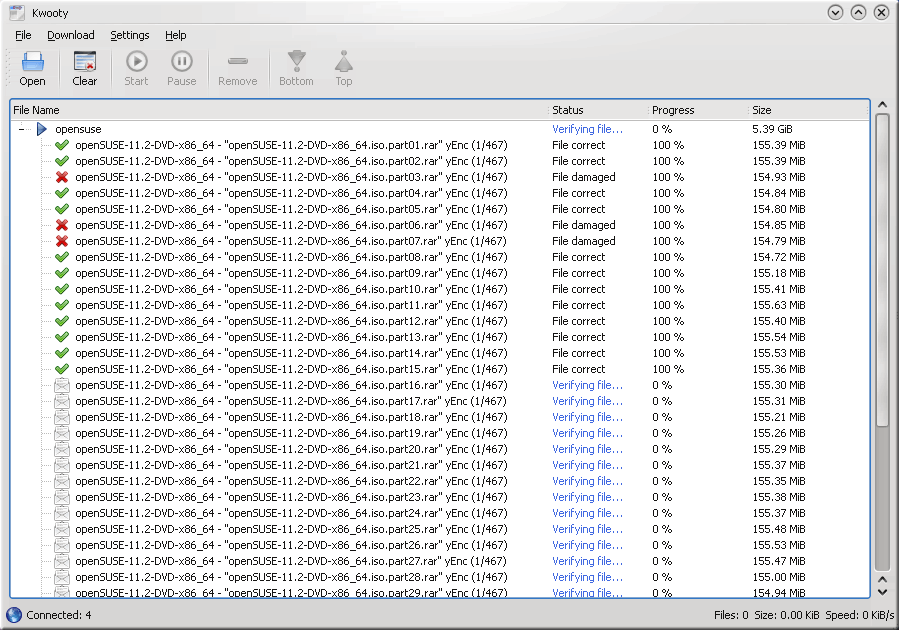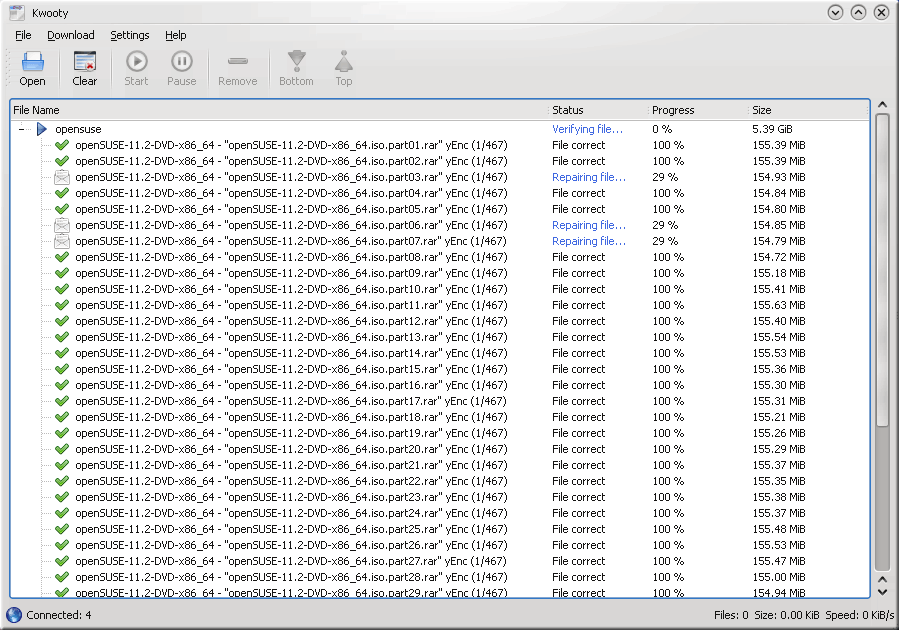 General Features
Aside from the above-mentioned features, Kwooty can also support multiple servers and has an automatic download retry feature in case a download fails. Users can also create a Favorites transfer folder for different types of downloaded content, as well as a Watch Folder.
And if you are concerned with how much bandwidth your Usenet download activity consumes, Kwooty supports bandwidth throttling, which enables you to set the consumption of your Kwooty activity. On top of that, you can set a schedule for your bandwidth throttling.
Other features include:
Automatic file downloading for NZBs
File Queue and Priority Management
Shutdown Scheduler
Pending downloads set up: save/restore when app is closed/open
Download suspension – for when disk is full
Remaining Time Display
Available Free Disk Space Display
Auto-connection to host
Security
Kwooty has a built-in SSL connection support which allows you to configure your server settings to an SSL-enabled server and port for a private and anonymous Usenet activity. Make sure you enter the correct details on your server settings, as provided by your selected Usenet service. If you have yet to decide which service is best for you, you may want to check out our list of top Usenet providers.
Pricing
Kwooty is completely free and there are no options in terms of possibly donating to the developers. However, if you are capable, you can contribute to the development of Kwooty by creating an account on github and contributing to the KDE/ Kwooty GitHub page.
Usage Information
Kwooty has a good GUI when compared to other NZB downloaders, which makes it a decent option for Linux users. But while other downloaders aren't as visually appealing as Kwooty, they have more automated features built into their software. That being said, Kwooty is still a convenient and efficient binary downloader that can be easily installed and used if you are used to setting up applications on your Linux device.
Installation
Kwooty requires a KDE version 4.6 to be able to install the program on your device. A par 2 and unrar package should also be additionally installed.
To install Kwooty on your Linux machine, you should first download an archive (tar.gz file) from a reliable downloading site.
To build and install the program:
untar the archive
build and install:

cd kwooty
cd build
cmake -DCMAKE_INSTALL_PREFIX=kde4-config --prefix ..
sudo make install OR > su -c 'make install'

uninstall:

sudo make uninstall OR > su -c 'make uninstall'
On the KDE/Kwooty github you can also find packages required to build Kwooty on several distributions. To view this information, click on install.txt.
Configuration
You can configure your settings based on general setup where you indicate your download folder and temporary folder. There are miscellaneous settings that you can either activate or not in that section.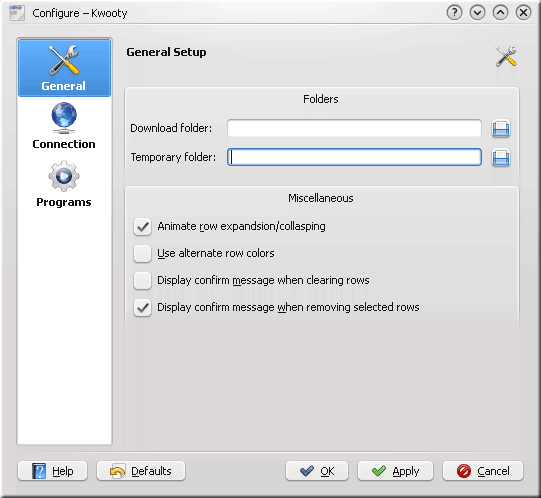 To enter your server settings, go to the connections section of Kwooty's Configure tab. There you can type in your provider's server address, port, and the number of connections you are allowed to use. If your Usenet service requires authentication, place your login and password on the space provided. Make sure you enable SSL connection to keep your download activity safe and private.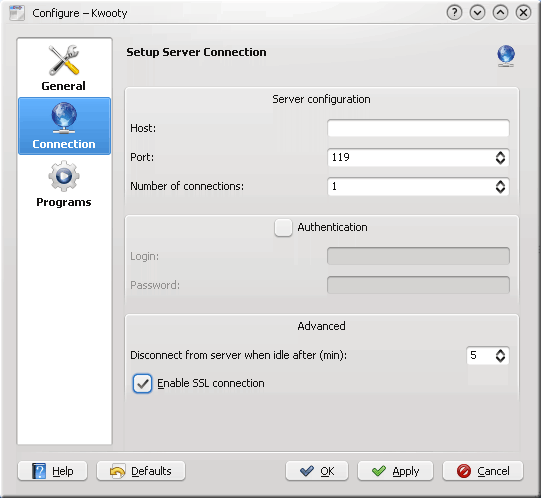 Ease of Use
If you are used to how Usenet clients work, then Kwooty would be relatively easy for you to use. As mentioned, it has a good graphical user interface that is both visually appealing and convenient for most of its users. When downloading NZBs, you will be able to see the status of your activity as files are being verified, repaired and downloaded.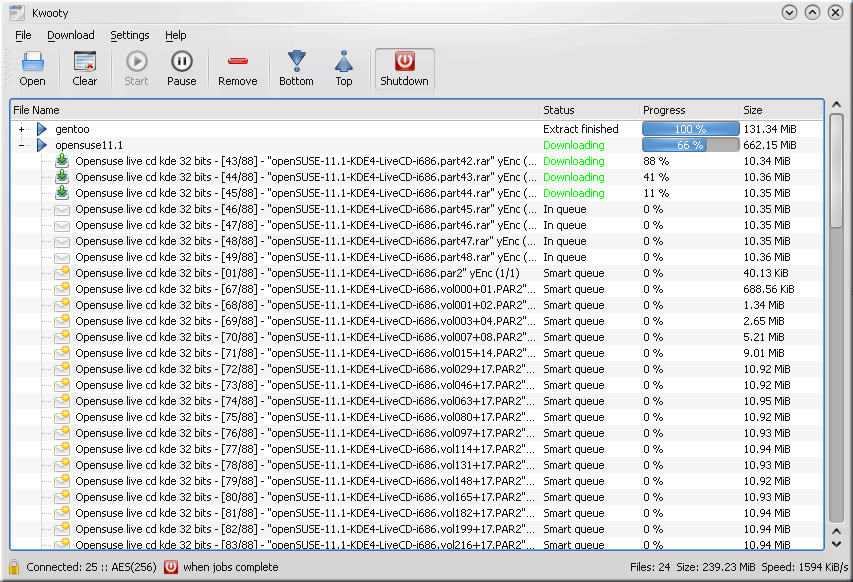 Summary
Kwooty is one of the better options out there when downloaders for Linux are concerned. It has a good GUI, performs well, and has decent features that provide convenience and efficiency to its users. However, the program has not been updated since 2011. And although there is no information if developments have ceased, Kwooty may have been left behind by some of its competitors who have recently updated their software and have improved their features. Currently, NZBGet and SABnzbd would likely be a better option when it comes to NZB downloaders. Or if you are looking for other newsreaders, you can visit our top newsreaders list, compare the different Usenet clients there and see which one best suits your downloading needs.