Last Updated: Feb 22, 2021
Exclusively for macOS, NZBVortex is a small and highly efficient Usenet downloader that is designed with speed and efficiency in mind.
NZBVortex is a full featured NZB downloader that was developed for optimal download speeds and low system usage. It has the ability to skip PAR2 and sample files in your downloads. It also has a "Smart Check" feature that determines if a PAR2 check is necessary.
NZBVortex has a free and paid version. The paid version unlocks advanced features that the free version does not have. You can initially experience these advanced features for free for the first 7 days of use.
Features
NZBVortex is a highly configurable and versatile Usenet client. It works exclusively on Mac and consumes a small system usage on your computer. Based on our testing, it performs well and has good features decent enough to be considered as one of the better options there are when newsreaders are concerned.
General Features
NZBVortex is able to do multi-connection or threaded downloading and auto unpacks and repairs files. This newsreader can determine if a PAR2 check is necessary through its Smart Check feature. If files are downloaded properly, then the file won't be checked.
NZBVortex also supports RSS feeds and SSL servers. It also has download throttling, Growl support and Sparkle auto update.
Users have the option to separate download and complete folders, skip sample files and do simultaneous transfer. You can also set your computer to sleep or shutdown once your downloads are done.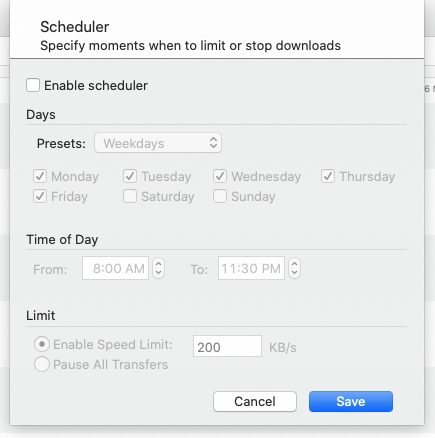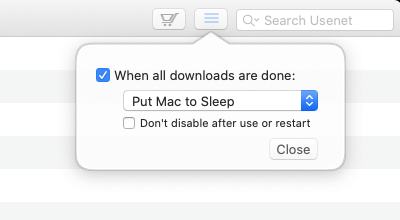 NZBVortex is optimized for multiple servers and connections. These connections are used in parallel to assure you can download as fast as possible. Most Usenet providers can maximize the full bandwidth of your internet connection. But if you choose to control and limit the speed of your downloading activity, you can do so by enabling the speed limit gauge on your NZBVortex interface.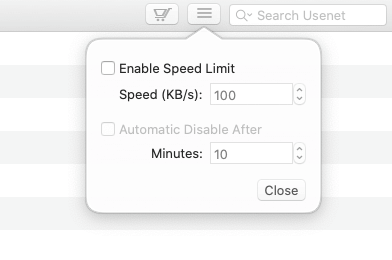 NZBVortex also has a cloud service that allows its users to work together for optimal downloads.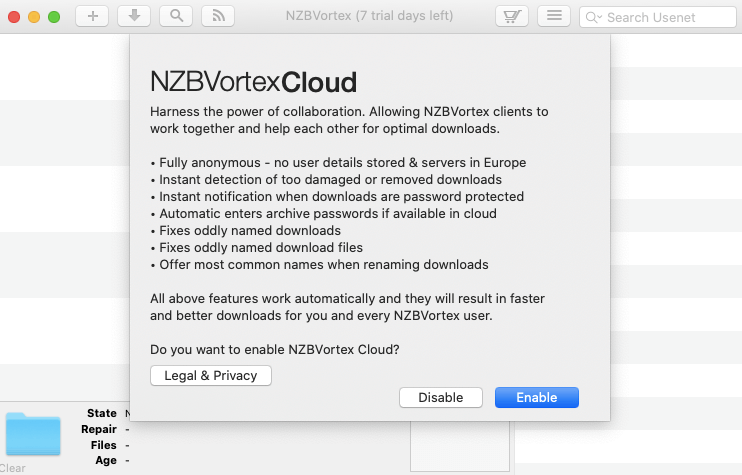 Security
For a secure and anonymous downloading experience, you would need to configure your settings with an SSL enabled port or server. This would come from a competent Usenet provider. Make sure you subscribe to a provider that has SSL to keep your activity safe.
Speed & Connection
The maximum number of available connections depends on what your Usenet provider offers. However, you should remember that your download speed does not solely depend on the number of connections you have. More than anything, this speed depends on how fast your internet connection is.
Pricing
NZBVortex has a free and paid version of their software. The free version has good enough features that will allow you to have a decent user experience. But if you want more advanced features, you can go for their paid version which is at $9.99. If you choose a paid version, NZBVortex will provide you with a license key which you can enter into the registration section of the software.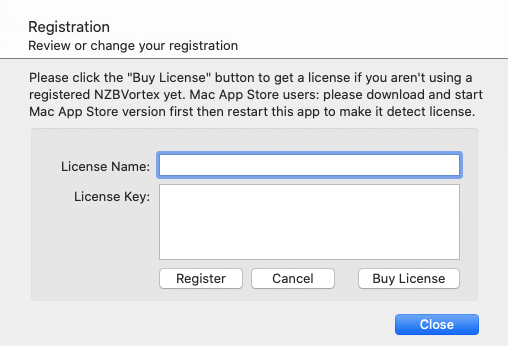 NZBVortex also has a 7-day free trial for new users to gauge if they want to go for the paid version of their software. To purchase the license, you can pay via PayPal, Credit Card, iDeal, or through the Mac App Store. Please note that for EU customers, your country's taxes will be added during purchase as required by European tax rules.
Usage Information
Currently at version 3.3.10, NZBVortex has constantly worked on improving their software and has addressed bug issues that they had before. It is a very efficient newsreader with a lot of features that allows users to have a good downloading experience.
Searching for files is as easy as doing google searches. Clicking on the file you want also automatically downloads the NZB file.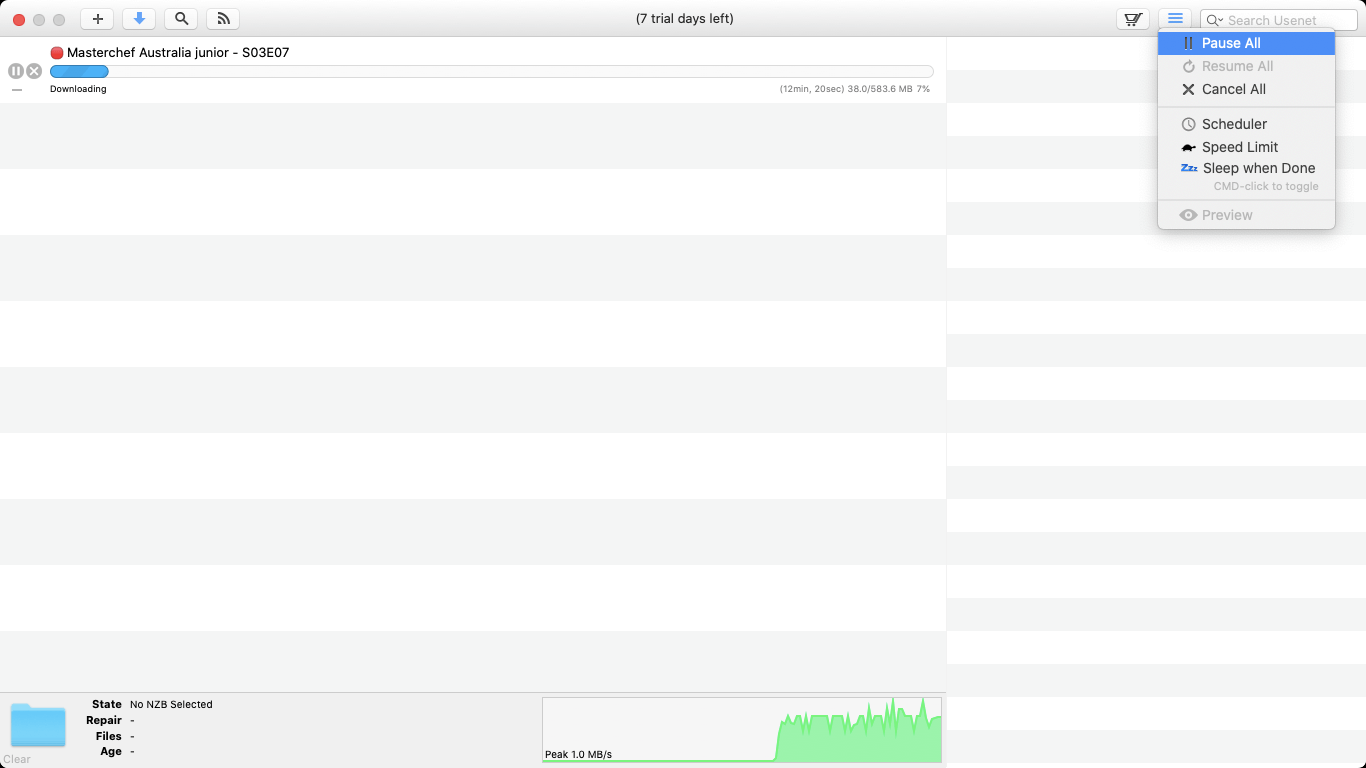 Installation
The easiest way to download this newsreader is by going to the NZBVortex website. There you can find the latest version on the downloads section. Simply select the version you want (since it also features older versions), and it will automatically download a .dmg file.
The next steps to put the software on your computer are the typical steps you do when downloading on Mac: open the .dmg file, move it to your applications folder and open the application.
Configuration
Once you are on the NZBVortex app, the first thing you need to do is to configure your setting. As previously mentioned, make sure you have a valid subscription with a Usenet provider so you can supply all the details needed like your server URL, port, username and password and connections. You may also want to explore the other sections of the settings to configure it according to your needs. Other sections include Locations, Search, Notifications, Cleanup, Remote and Advanced settings.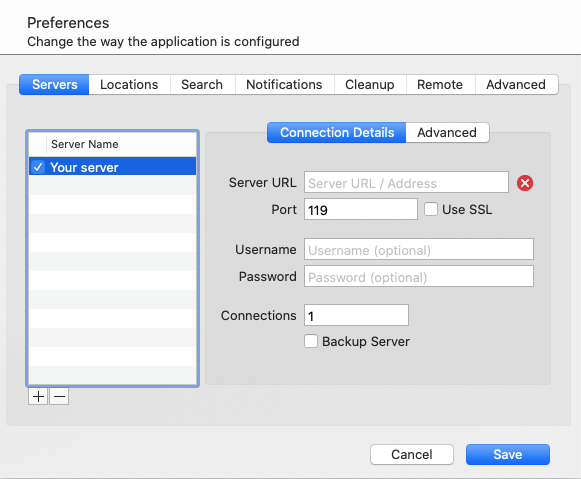 Ease of Use
Upon exploring NZBVortex, it has a very simple and clean-looking interface. According to what we've gathered, its interface is in Cocoa, making it very clear and easy to use. There are only a few buttons to explore and transitions from one page to another when you click these buttons are very smooth.
Searching through Usenet is also easy. You can do it by typing in keywords on the search box located on the upper right corner of the interface. Results are also quickly generated when searching through several Usenet search sites. The default search engine on NZBVortex are Binsearch, NZBClub, NZBIndex and NZBKing. You can also add other NZB sites or Usenet search engines based on your preference.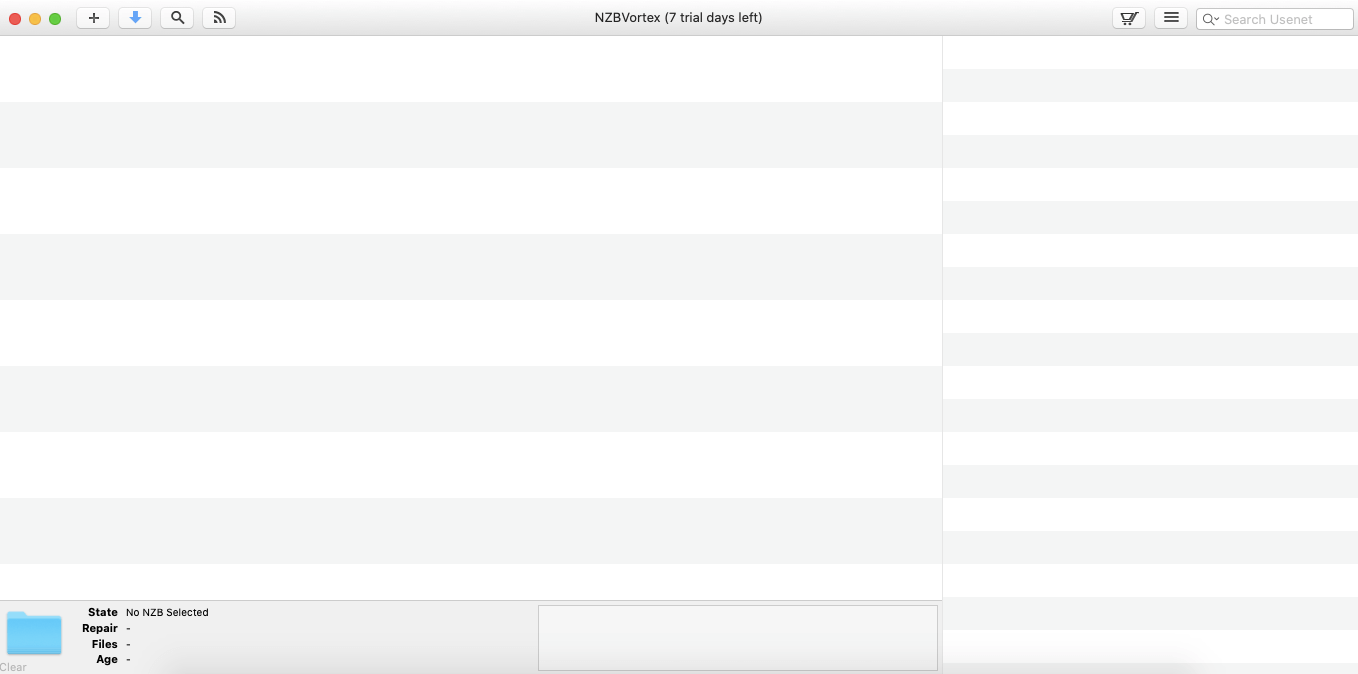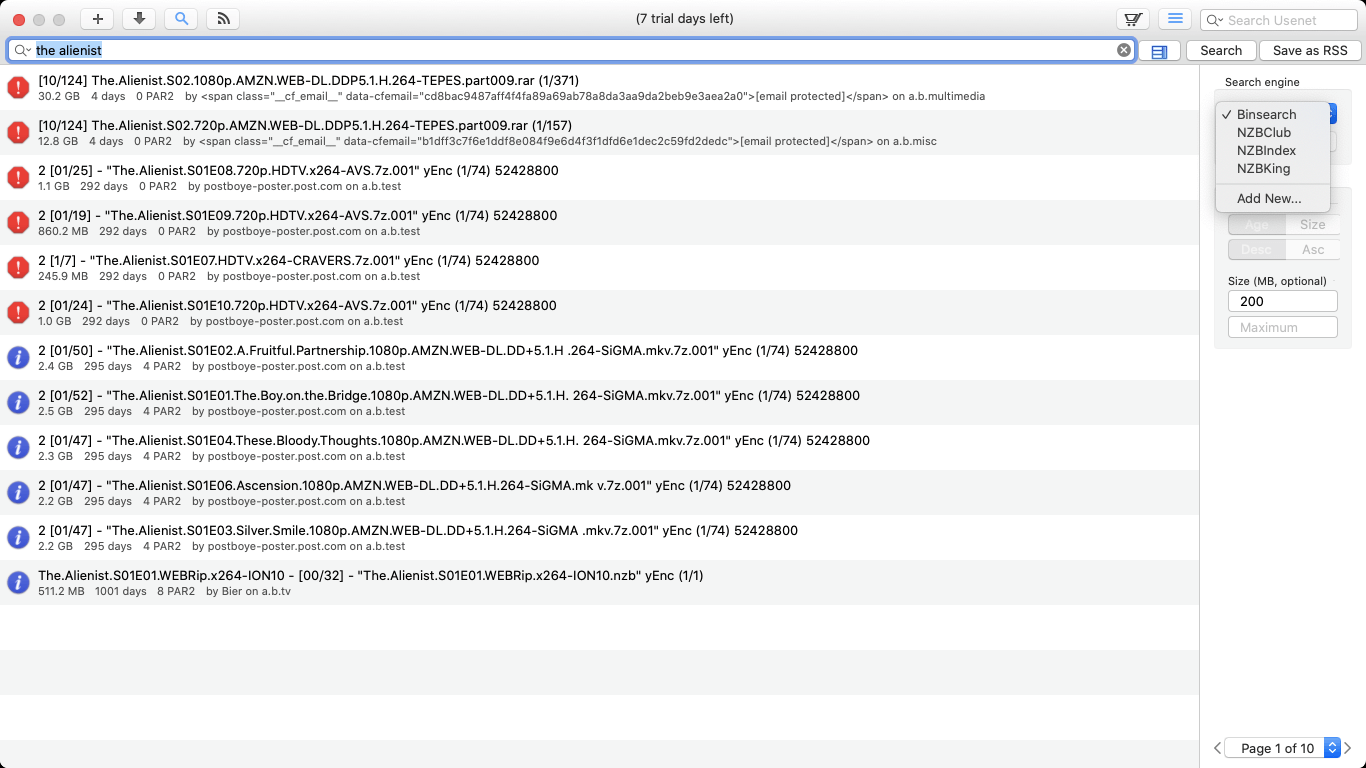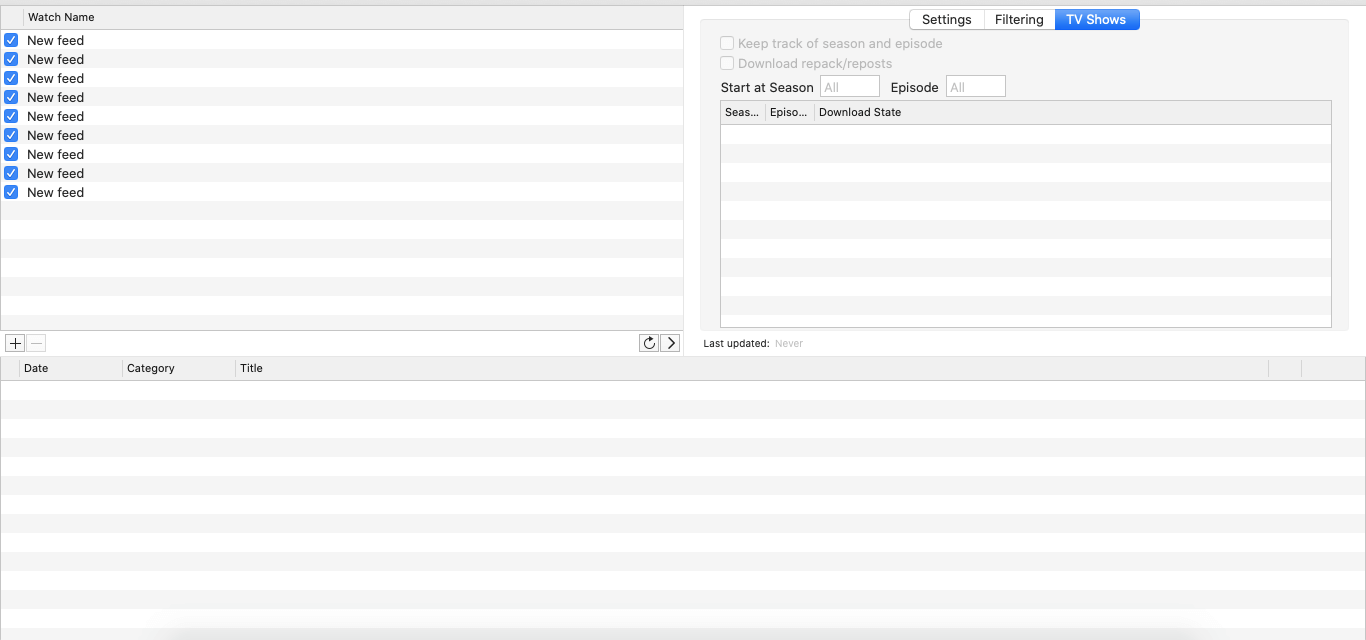 Summary
From its initial release, NZBVortex has been a decent option when it comes to newsreaders/ NZB downloaders are concerned. The developers of this macOS application have constantly improved their features and have amped up the efficiency of their software. With a clean and easy-to-use interface, most users enjoy using NZBVortex. Its interface also has smooth transitions and searches through Usenet fast and generates good results. Another thing worth noting is that NZBVortex provides good support to its users. With a wide range of support pages on their website; from FAQs to RSS set up instructions, and providing enough touch points to contact them, their users are assured of the quality of service this newsreader offers.
Although NZBVortex has a bit of an edge when compared with other NZB downloaders in terms of its capability to read and search for headers, it may not be able to compete well with NZBGet when it comes to its downloading features and other settings. Make sure you also read about NZBGet to be able to check which NZB downloader would fit your needs.