Last Updated: Feb 22, 2021
SeaMonkey is considered as an all-in internet suite that has an email client, built-in chat and web browser. This software also has the basic capabilities of a newsreader, which is to read articles or messages on Usenet.
SeaMonkey is known for its open-source web browser feature and as a decent email client. What a lot of users don't know is that SeaMonkey is also a newsreader that is capable of reading articles and messages on Usenet. The difference with SeaMonkey with most Usenet clients is that it is not capable of downloading files from newsgroups. Nevertheless, as a very basic newsreader, SeaMonkey is a decent choice similar to Thunderbird.
This software works on MacOS, Linux and Windows and is available in several languages.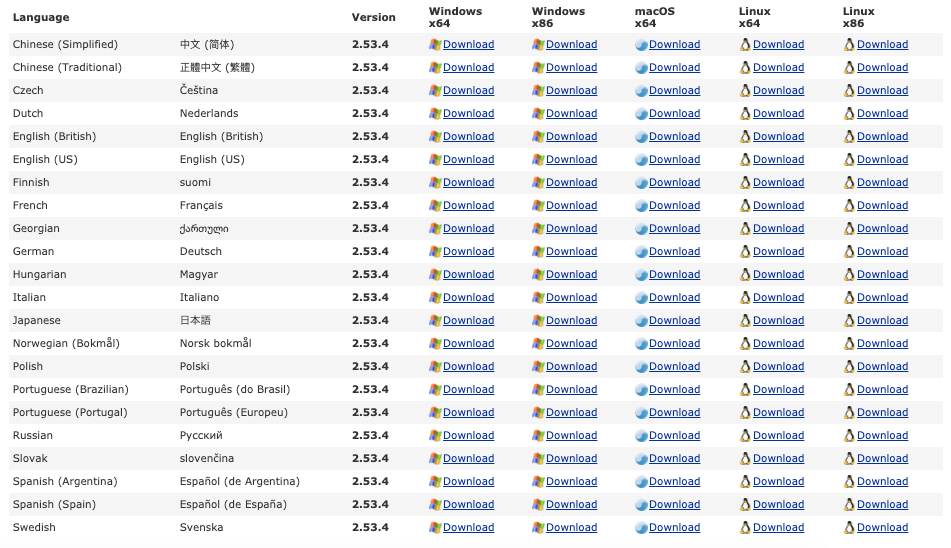 NOTE:
As of January 2021, the latest version of this all-in-one internet suite was released. According to their website, "The 2.53.6 version is an incremental update from the 2.53.x branch and incorporates a number of changes, including improved usability of multiple mailboxes/folders selection, Greek localization, and fixes from the underlying platform code. Before installing it make a full backup of your profile and thoroughly read and follow their Release Notes."
Automatic upgrades from previous versions are disabled for this release. If you need to upgrade from an earlier version, download the full installer from their downloads section and install SeaMonkey 2.53.6 manually over the previous version.
Features
Since SeaMonkey is mainly an email client and web browser software, the developers are more focused on enhancing their service for these features.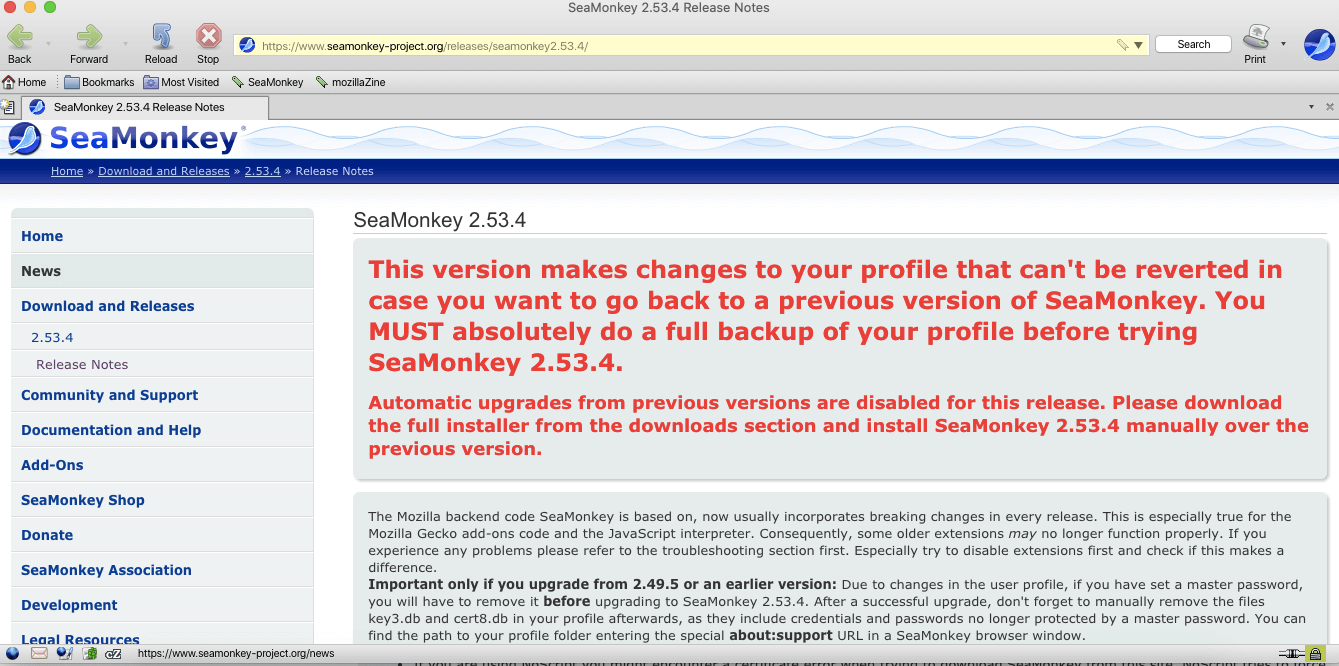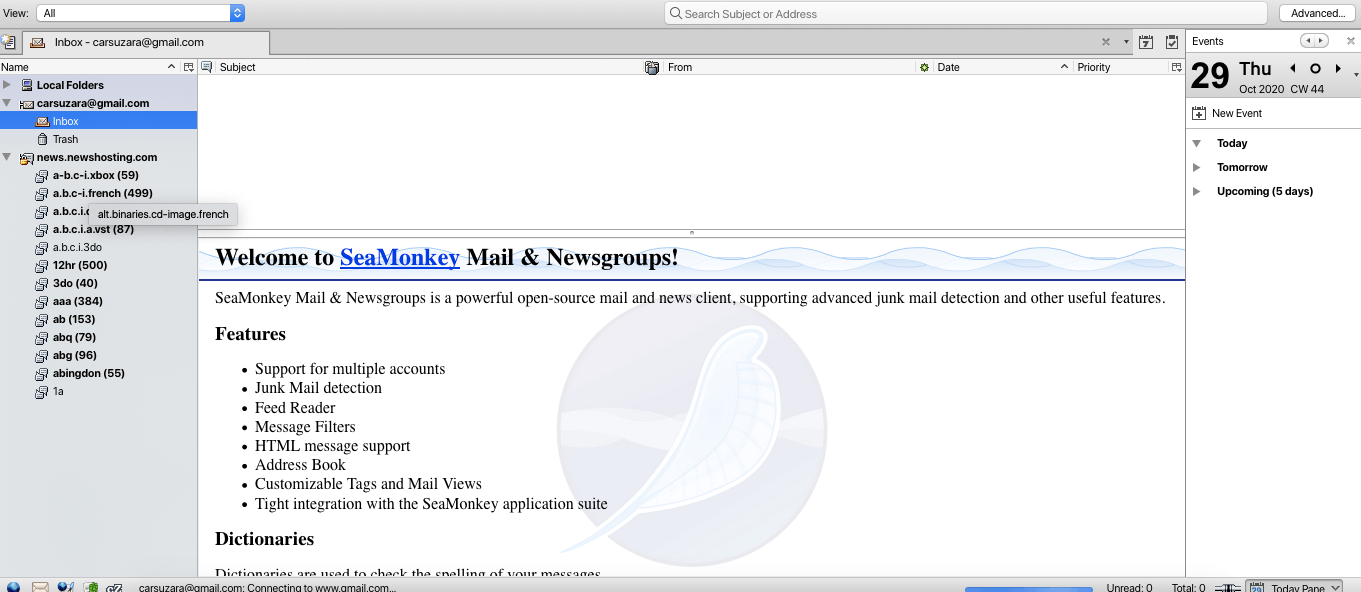 General Features
As a newsreader, SeaMonkey has very limited features. The only thing you can do is to search and read through Usenet via the newsgroups you can subscribe to from your Usenet provider.
And like other very basic newsreaders, you can post on newsgroup threads or reply to messages on Usenet. However, downloading files is not one of SeaMonkey's features.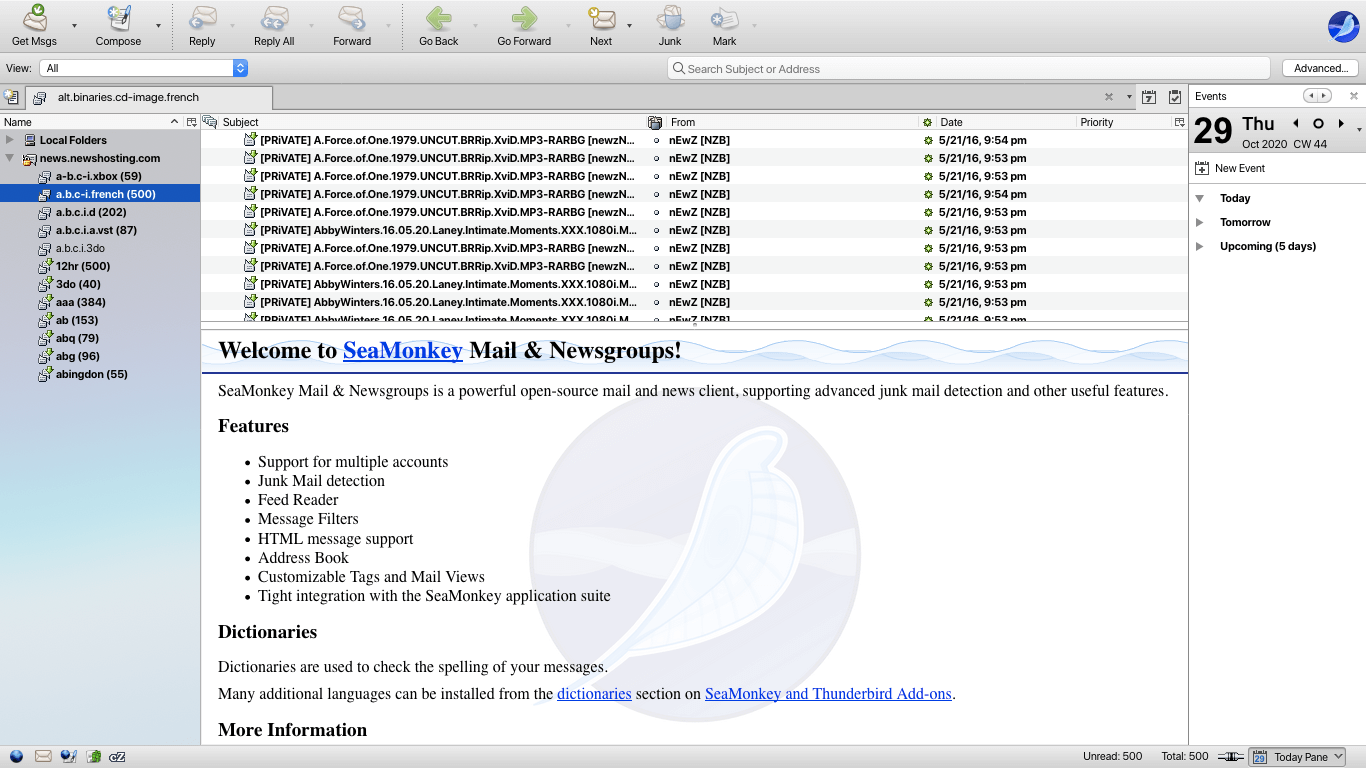 This application also has a built-in IRC chat that its community of members can use.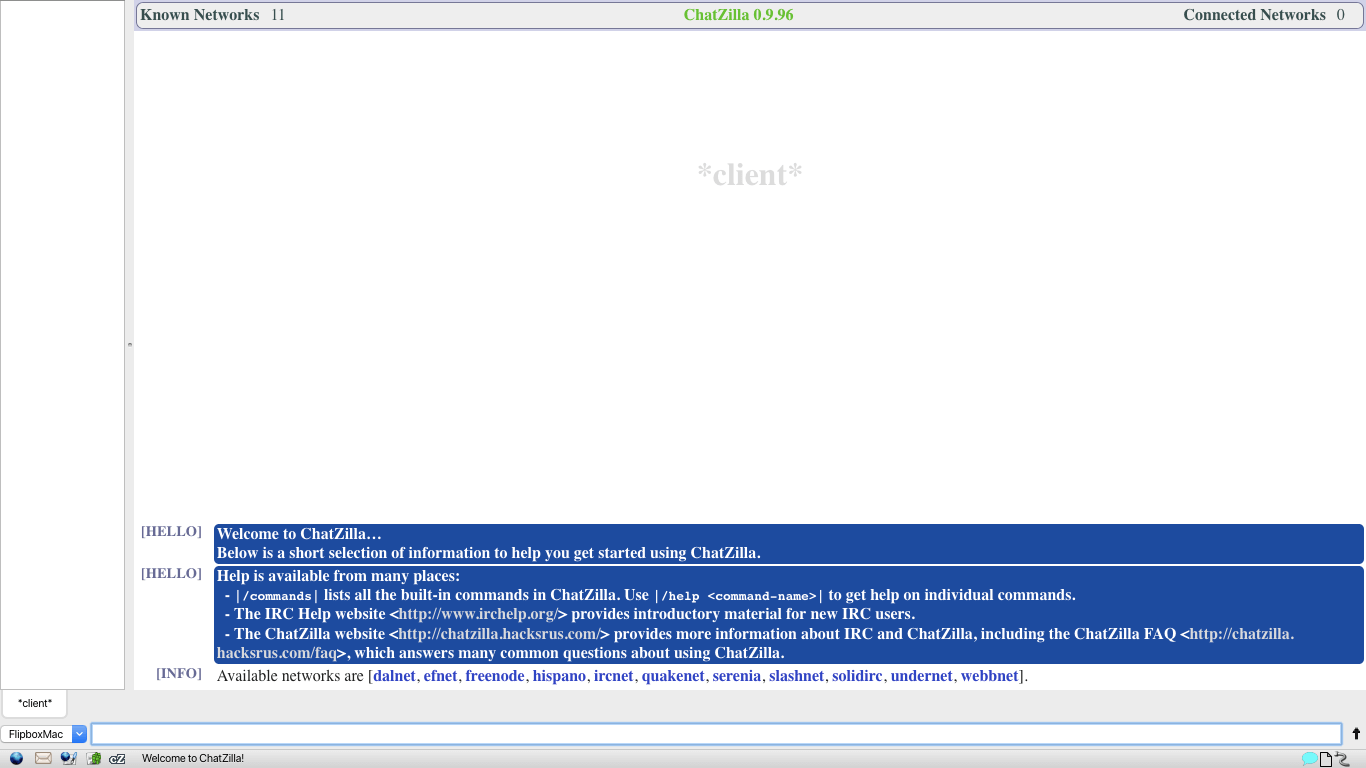 Security
When accessing Usenet on SeaMonkey, make sure you configure your server settings to an SSL-enabled port. This keeps your activity secure and private. This also applies to the email settings you would need to configure on this application.
According to SeaMonkey, they do not log any activity users do on Usenet. Post or replies on newsgroups are kept secure as long as SSL is enabled.
Pricing
SeaMonkey is completely free. However, they encourage donations so they can continue upgrading the software and provide support to its users. You can donate any amount via PayPal or Wire Transfer.
For Wire Transfer donations, here are the details:
SeaMonkey e.V.
Volksbank Sprockhövel
Account-Nr. 210 285 200
BLZ 45261547
BIC: GENODEM1SPO
IBAN: DE57 4526 1547 0210 2852 00
Please note that donations will be charged in Euros regardless of the country the contribution is made from.
Usage Information
The SeaMonkey interface is a little outdated when compared to other newsreaders. You will initially be brought to its web browser, which causes a bit of a confusion for some Usenet users. To access newsgroups, you would need to go to tools and look for mail and newsgroups option which opens that particular window.
Usage with this software is tricky since windows come separate and navigating from one window to another can be confusing. It is not like other newsreaders where functions are usually set by tabs and not totally separate pop-up windows.
Installation
SeaMonkey can be installed on Windows, Mac and Linux. These three operating systems differ on what their installation processes are.
For Windows, it may warn you that it could not verify the publisher when you run the SeaMonkey installer. But as long as you've downloaded the installer from a legit website like the SeaMonkey website or Mozilla, then you can safely ignore this warning.
To install SeaMonkey on Windows:
Click the Download link in the relevant Windows column to your machine.
Double-click the installer file icon on your machine to begin the Setup program.
Follow the on-screen instructions in the setup program. The setup program gives you the option to launch SeaMonkey once the installation is completed.
To install SeaMonkey on Mac:
Click the Download link in the macOS column on the site you're downloading from to your machine.
Double-click on the .dmg file. The disk image will now mount, and a new Finder window should appear.
Drag the SeaMonkey icon to the Applications folder.
Open SeaMonkey from your Applications folder.
On your Mac computer, you may get a prompt message that macOS cannot verify SeaMonkey since the developer is not verified. This differs depending on the version of your operating system. If this prompt pops up, you can either discontinue with the process or open your General pane and allow SeaMonkey to be opened anyway.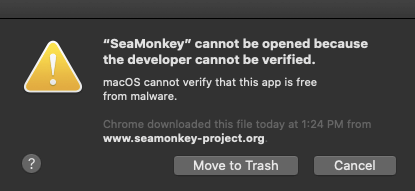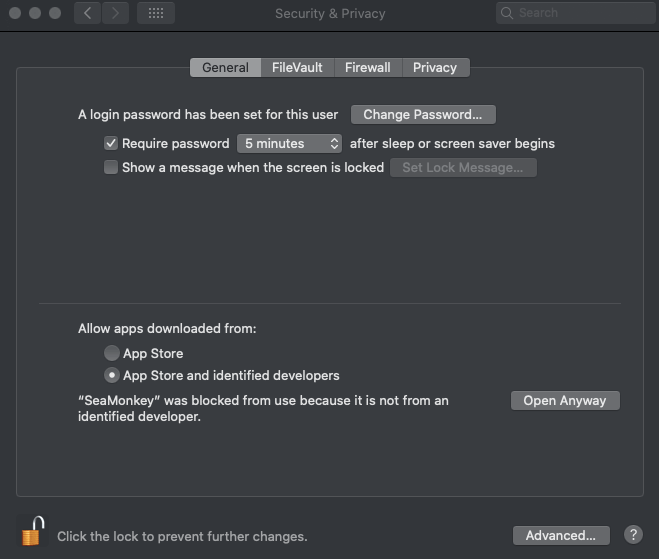 For Linux, there is no installer available. Instead, you can extract the tar.bz2 to the default directory which would give you the same results as an installer would.
Create a directory named "seamonkey2" (mkdir seamonkey2) and change to that directory (cd seamonkey2).
Click the Download link in the relevant Linux column on the site you're downloading SeaMonkey from to download the package file into the seamonkey2 directory.
Decompress the file with the following command:

tar jxvf seamonkey-2.*.tar.bz2
This creates a "seamonkey" directory under your seamonkey2 directory.

Change to the seamonkey directory (cd seamonkey).
Run SeaMonkey with the following command:
Configuration
To configure SeaMonkey as a newsreader, go to the app's server settings and make the necessary changes based on your Usenet provider (server name and port). Adjust your security settings to SSL/TLS. You can also customize how often to check for messages and the number of messages the server could download. You can also enter several servers in this section.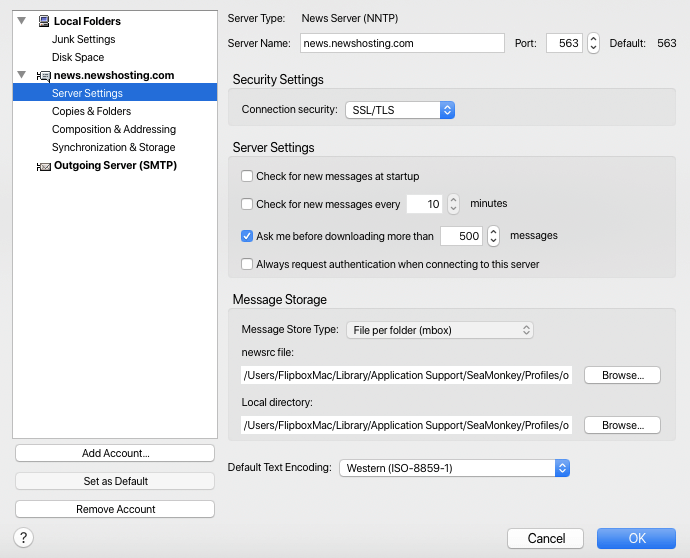 Once you've entered the correct settings and have navigated yourself to the mail and newsgroups window, you can add the newsgroups you would like to subscribe to. SeaMonkey will then ask for your account details so you can access these newsgroups.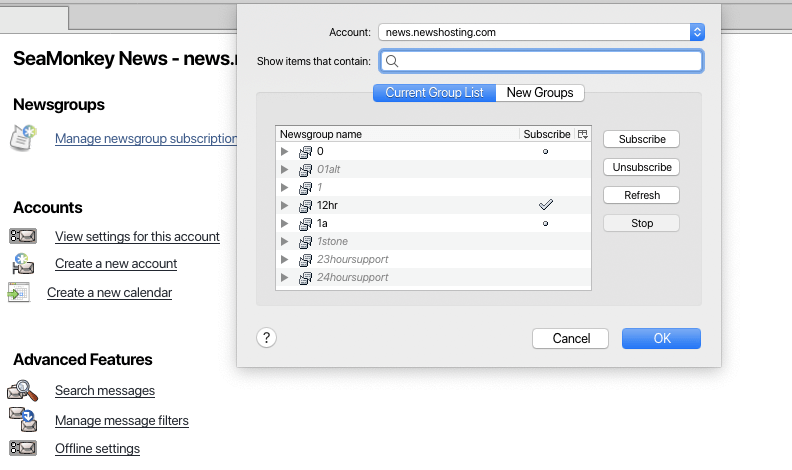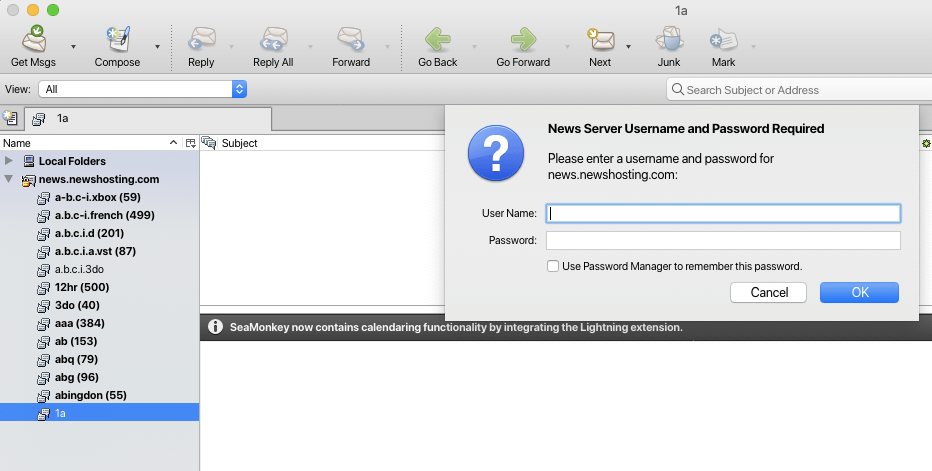 Ease of Use
SeaMonkey may not be the best option as a Usenet client since it lacks other features that other newsreaders provide. It is not particularly user friendly regardless if you are just using it as a newsreader or as an all-in Internet suite. As previously mentioned, instead of tabs for menus, different functions are separated as pop-up windows and moving from one window to another can be confusing. But if you get used to it, it's possible that SeaMonkey can be convenient for you as a newsreader, email client and web browser.
SeaMonkey performs well in terms of speed. Pages load quickly and searches on newsgroups are generated fast. However, when initially loading articles from newsgroups, it takes quite some time to sync. We've also encountered some issues with constant pop ups of "incorrect username and password" when accessing newsgroups from our selected server, even if correct account details were entered.
As an email client, syncing your existing email to SeaMonkey also takes a while. It takes several minutes before your inbox would be updated, but that may also be due to the actual content of your email.
Summary
As a full-service Usenet client, SeaMonkey is definitely not the best option. While it can run on several operating systems, this all-in internet suite lacks the features of our top newsreaders. Yes, it can read articles from newsgroups and, on that basis, is a pretty decent newsreader. But it is not capable of downloading any files from Usenet. In addition to that, Thunderbird may be a better option since its interface is easier to use and has a cleaner and more modern look.